Overview
Overview
The Critical Care & Anaesthesia Institute at Cleveland Clinic London will provide 24-hour inpatient cover and services for the following:
Anaesthesia
Critical care
Pain management
Our 30-bed unit, all capable of level 3 care, will be one of the largest private critical care units in the UK. The majority of patients treated in unit will come from neurosurgery, cardiac surgery and GI surgery. The unit will also serve other patients from rehab/medical transfers and the acute admissions unit (AAU).
Explore Cleveland Clinic's latest research insights, innovations, treatment trends and more.
Leadership
Leadership
Nick Fletcher, MBBS, FRCA, FFICM – Chair of the Critical Care & Anaesthesia Institute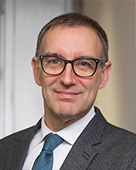 Dr Nick Fletcher will chair our Critical Care & Anaesthesia Institute at Cleveland Clinic London. Dr Fletcher has been a Consultant in anaesthesia and critical care at London's St Georges University Hospital NHS Foundation Trust for 17 years, and was lead for the Trust's cardiothoracic critical care unit for 5 years. In addition to his clinical commitments he was President of the Association for Cardiothoracic Anaesthesia and Critical Care, and is an editor of British Journal of Anaesthesia Education. Dr Fletcher has over 70 peer reviewed publications and has been invited to lecture at many international conferences on anaesthesia and critical care. He is recognised for his national and international leadership in clinical quality, echocardiography, research and education.