Overview
Overview
Our General Practice Institute will provide a comprehensive range of medical services including:
Concierge medicine
General practice
Executive health
General Practitioners (GPs) are typically the first medical point of contact for patients. From diagnosing new illnesses and managing chronic diseases to recommending screenings and preventative measures, GPs play a crucial role in patients' overall health. Should a patient require specialised care, our GPs will provide specialist referrals and work collaboratively to ensure patients receive the best possible care and a seamless experience. Under our General Practice Institute, we will also offer patients increased availability and accessibility to a personal GP and dedicated team through our concierge medicine services.
Our General Practice Institute will leverage Cleveland Clinic's global presence and draw on the extensive experience of our established executive health programs located in Cleveland, Ohio, Weston, Florida, Toronto, Canada, and Abu Dhabi, United Arab Emirates. These executive health programs have transformed the traditional executive physical from a data gathering exam into a fully integrated, head-to-toe evaluation by some of the top medical staffing in the world. Patients will have access to experts in nutrition, exercise physiology, stress management, vision, hearing, heart health, lung function, and more.
Explore Cleveland Clinic's latest research insights, innovations, treatment trends and more.
Leadership
Leadership
Ruth Whitby, BSc, MBBS, DRCOG – Chair of the General Practice Institute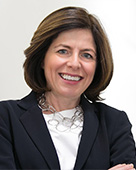 Our General Practice Institute will be led by Dr Ruth Whitby. Dr Whitby has more than 30 years' experience in General Practice. She is a GP at King Edward VII's Hospital, and has a special interest in general medicine, stress management, health screening and paediatrics. Dr Whitby was the first native English-speaking doctor to be awarded a Japanese Medical License whilst working as a GP in Tokyo from 1994 to 1997, and she holds a medical degree from King's College London, a diploma in obstetrics and gynaecology, and a first-class honours degree in neuroanatomy.