Overview
Leadership
Leadership
Olaf Wendler, MD, PhD, FRCS – Chair of the Heart & Vascular Institute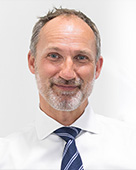 Heart & Vascular services will be led by Professor Olaf Wendler. Professor Wendler brings more than 20 years' experience as a Consultant in cardiothoracic surgery to Cleveland Clinic London. He is a Fellow of the Royal College of Surgeons and Professor of Cardiac Surgery at King's College Hospital NHS Foundation Trust. He joined King's College Hospital in 2004 and served as Clinical Director for Cardiovascular Services from 2006 to 2012. Professor Wendler has an international reputation for innovative minimally invasive heart surgery, and has been the lead cardiac surgeon in the Clinical Advisory Group of the NHS London Cardiovascular Strategic Clinical Network since 2013.
Join Our Educational Meeting: Challenges in the Prevention & Management of Cardiovascular Disease
13-14 September 2019 at The Royal Society of Medicine
A faculty of top specialists will present a comprehensive update and analysis of state-of-the-art practices in cardiovascular medicine and surgery.
Register Now