Overview
Overview
The Hospital Services Institute at Cleveland Clinic London will provide patients with:
Gastroenterology (GI) radiology
Interventional radiology
Muscoskeletal (MSK) radiology
MRI and CT
Neuroradiology
Pathology and lab medicine
Our Hospital Services Institute in London will be similar to Cleveland Clinic's Imaging Institute, which is one of the largest radiological academic centers in the United States. We are continuously working to provide patients the most up-to-date technological advances and innovative treatment options in diagnostic imaging. Radiologists from our Hospital Services Institute will provide hospital and outpatient coverage for general and interventional radiology, as well as subspecialty areas including MSK, GI, neurology, and cardiac.
Explore Cleveland Clinic's latest research insights, innovations, treatment trends and more.
Leadership
Leadership
Jamanda Haddock, MA, MRCP, FRCR – Associate Chief of Staff, Chair of the Hospital Services Institute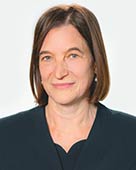 Associate Chief of Staff at Cleveland Clinic London, Dr Jamanda Haddock, will also serve as chair of our Hospital Services Institute. Dr Haddock trained at Oxford University and St Thomas' Hospital London. She has been a Consultant Radiologist at the Royal Free London NHS Foundation Trust since 1994, and is a Fellow of the Royal College of Radiologists. From 2012 to 2018 Dr Haddock was Lead Clinician for Imaging Services at the Wellington Hospital and was a Consultant on the Medical Advisory Committee. From 2004 to 2011 she was Clinical Director for Radiology and Nuclear Medicine at the Royal Free, where she also served as a member of the Clinical Advisory Board.