Overview
Overview
Our Medical Subspecialty Institute will focus on safety and continuity of care, offering a variety of medical services including:
Acute admissions unit (AAU)
Dermatology
Diabetes and endocrine
Infectious diseases
Psychiatry
Renal services
Respiratory and bronchoscopy
As with Cleveland Clinic's Medicine Institute, our Medical Subspecialty Institute in London will provide patients with the highest quality primary care and hospital medicine services. In the United States, the Medicine Institute is a leader in chronic disease management and research in primary care settings, particularly in diabetes. Their goals include studying approaches to improve performance in patient-centred care and educating the next generation of healthcare providers in delivering superior personalized care.
Explore Cleveland Clinic's latest research insights, innovations, treatment trends and more.
Leadership
Leadership
Mark Hamilton, MB (Hons), MD, FRCP – Chair of Medical Subspecialties Institute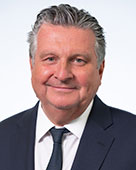 Dr Mark Hamilton will lead our Medical Subspecialties Institute at Cleveland Clinic London. Dr Hamilton is a Consultant at the Royal Free London NHS Foundation Trust. His main clinical interest is the management of complex Inflammatory Bowel Disease. He has 23 years' experience as a consultant in GI and internal medicine, is a Fellow of the Royal College of Physicians, and from 2014 to 2018 served as Chair of the Medical Advisory Committee at the Wellington Hospital. He remains an active contributor to clinical and translational research.