Overview
Overview
The Neurological Institute will provide comprehensive treatments for a broad spectrum of neurological disorders. Services will include:
Epilepsy
Neurology
Neurosurgery
Neuro-rehabilitation
Sleep Medicine
Spine
Cleveland Clinic's Neurological Institute includes more than 300 medical, surgical and research specialists dedicated to the treatment of adult and pediatric patients with neurological and psychiatric disorders. At Cleveland Clinic London, we will adopt a similar disease-specific, patient-focused approach to care that our multidisciplinary institute offers in the United States. According to U.S. News & World Report's "America's Best Hospitals" survey, our neurology and neurosurgery programs are consistently among the top 10 in the nation and best in Ohio.
Explore the latest advances in patient care, research, technology and more from Cleveland Clinic's Neurological Institute.
Leadership
Leadership
Andrew McEvoy, MBBS, BSc (Hons), MD, FRCS, FRCS (SN) – Chair of the Neuroscience Institute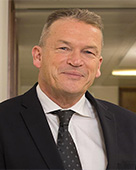 Mr McEvoy is a world-leading Consultant Neurosurgeon at The National Hospital for Neurology and Neurosurgery, and Reader in Neurosurgery at University College London. He has the largest adult epilepsy surgical practice in the UK and leads the surgical arm of the Department of Clinical and Experimental Epilepsy - the preeminent epilepsy research group in Europe. Listed in The Times top UK doctors for his epilepsy and brain tumour surgery, Mr McEvoy's specialist neurooncology service has a particular interest in the prediction and preservation of function during large resective neurosurgical procedures, and the reorganisation of brain function around brain tumours. He has particular expertise in interventional MRI and awake brain surgery. Mr McEvoy has published and presented widely both nationally and internationally, and holds a number of research grants funding projects at The Institute of Neurology in London.