Overview
Overview
The Orthopaedics, Plastic Surgery & Rheumatology Institute will bring together medical and surgical specialists to provide comprehensive treatment plans for a variety of orthopaedic conditions with many services, including:
Bone Tumor
Hand
Hip/pelvis
Knee
Foot and ankle
Plastics
Peripheral nerve
Rheumatology
Shoulder/elbow
Sports medicine
Sub-acute trauma
Cleveland Clinic's Orthopaedic & Rheumatologic Institute offers expert diagnosis, treatment and rehabilitation with bone, joint or connective tissue disorders. The institute blends the strengths of Cleveland Clinic's Orthopaedic and Rheumatology Program, both ranked nationally by U.S. News & World Report. At Cleveland Clinic London, our orthopaedic services will build on this expertise and deliver the most advanced treatment options designed to help patients regain their quality of life.
Explore research insights, innovations, treatment trends and more from orthopaedic specialists at Cleveland Clinic.
Leadership
Leadership
Howard Ware, MB, BS, FRCS(Orth) – Chair of the Orthopaedics, Plastic Surgery & Rheumatology Institute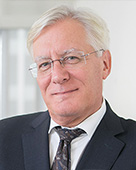 Mr Howard Ware is a Consultant Orthopaedic Surgeon at the Royal Free London NHS Foundation Trust and Director of the Wellington Hospital's Knee Surgery Unit. He has more than 30 years' experience in orthopaedic surgery and is a Fellow of the Royal College of Surgeons and honorary lecturer at the University of Dundee. Mr Ware is also a member of several professional societies, including the British Association Knee Surgery, and is a reviewer for the Journal of Bone and Joint Surgery, British Volume. Under the guidance and leadership of Mr Ware, our multidisciplinary orthopaedic institute will specialise in a range of routine and specialist areas.