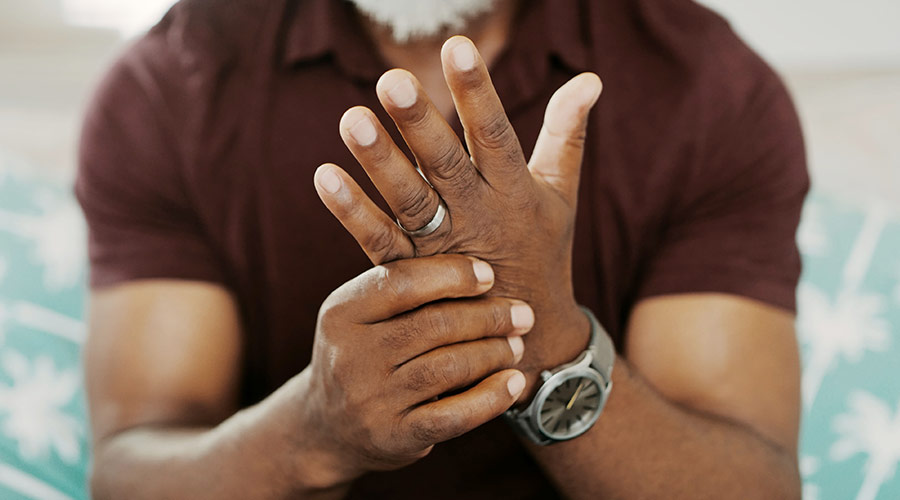 Cleveland Clinic London is home to some of the U.K.'s leading hand and wrist specialists. We provide comprehensive diagnosis and care for a broad range of conditions, from arthritis and nerve conditions to traumatic injuries. You receive state-of-the-art treatments from a skilled and dedicated team.
Wrist and Hand Surgery: Why Choose Cleveland Clinic London?
Highlights of our wrist and hand surgery programme include:
Team approach: Hand and wrist specialists in multiple disciplines work together to evaluate your condition and recommend treatment options. You receive a customised care plan built by orthopaedic surgeons, plastic and reconstructive surgeons, rheumatologists, physiotherapists and other experts.
Timely care: You receive all the diagnostic testing you need in one place, promptly. Consultants and surgeons work with a dedicated musculoskeletal radiology team and pathologists to evaluate imaging scans, biopsies and other tests as quickly as possible. You get fast results and a streamlined treatment plan.
Specialty expertise: Our hand and wrist surgeons are leaders in their fields, with training from world-renowned institutions. They bring you the latest treatments in key specialty areas, including wrist arthroscopy, reconstructive hand surgery, peripheral nerve injuries and upper extremity trauma.
Hand and Wrist Conditions We Treat
At Cleveland Clinic London, our experts can treat any disorder or injury affecting the hand, wrist, shoulder and elbow.
Hand conditions we treat include:
Hand and finger fractures.
Sprained thumb (skier's thumb or gamekeeper's thumb).
Wrist conditions we treat include:
Wrist fractures.
Wrist sprains.
Our Hand and Wrist Treatments
Cleveland Clinic London features a broad range of non-surgical and surgical treatments for the hand and wrist. Our experts design a treatment plan suited to your needs and preferences.
Non-surgical hand and wrist treatments
Whenever possible, we recommend non-surgical treatments to manage your hand or wrist pain. Conservative therapies may include:
Activity modification.
Anti-inflammatory medication.
Physiotherapy.
Splinting or bracing.
Steroid injections.
Hand and wrist surgeries
Our options for hand and wrist surgery include:
Carpal tunnel surgery: We use open or minimally invasive (endoscopic) techniques to cut the ligament over the carpal tunnel and relieve pressure on the median nerve.
Dupuytren's contracture surgery: Also called Dupuytren's fasciectomy, this procedure divides the tight bands of tissue under the skin of your palm to increase movement in the contracted finger.
Hand tendon surgery: Our surgeons specialise in trigger finger release surgery (tenolysis), tendon transfers and other forms of hand tendon repair.
Reconstructive hand surgery: Surgeons use skin grafting, free flap tissue transfers and other complex techniques to repair and reconstruct the hand and wrist. This surgery improves the appearance and function of your hand or wrist after trauma or tumour removal.
Wrist arthroscopy: During this minimally invasive procedure, we operate on your wrist joint through tiny incisions. We use arthroscopy to diagnose wrist pain, perform ganglion cyst removal and treat problems such as ligament tears or fractures.
Wrist fusion: Total wrist arthrodesis permanently fuses (joins) wrist bones together with metal screws or plates. We may recommend fusion to eliminate pain with movement due to severe arthritis or fractures.
Wrist replacement: Wrist arthroplasty may be necessary to treat severe arthritis or chronic pain from traumatic injuries. We replace the wrist joint bones with metal and plastic components that move and function like a natural joint.
Orthopaedic Self-Pay Services
Whether you need to know the cost of a private MRI scan, surgical procedure or other service, we can help. Cleveland Clinic London has a broad range of tests and treatments available for self-pay, so you're prepared for whatever turn your health takes. Find out more.
Learn More
Contact us or call +44 20 3423 7500 for more information about our hand and wrist services.