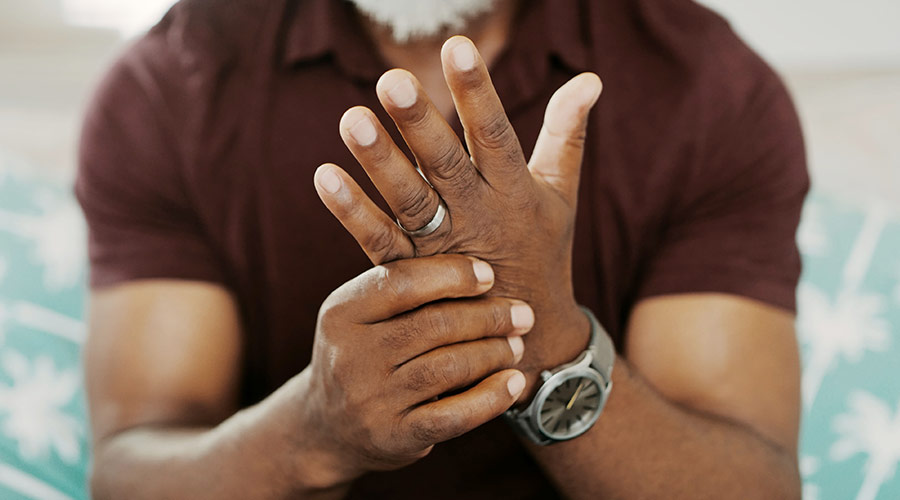 If you have an injured hand or wrist, it impacts every aspect of your life. Hand or wrist pain can make everyday tasks like typing on a computer or brushing your teeth difficult. If pain in your hand or wrist is preventing you from doing your usual activities, it's time to seek medical advice.
Your hand is made up of 27 different bones, including eight in the wrist (called carpals) so treatment can be complex due to the amount of tendons, bone and muscles involved. That's why it is so important to find the best treatment options and right care team for you.
Why Choose Us for Hand or Wrist Treatment?
Our specialists are experienced in diagnosing and treating all hand and wrist conditions. When seeking care for your hand or wrist at Cleveland Clinic London you can expect:
A multidisciplinary team approach: We bring all of the experts you need together under one roof. You have access to orthopaedic consultants, surgeons, rheumatologists, hand therapists, plastic surgeons, nurses and more who all work as a team to get you the best possible care.
Advanced treatments: Our experienced consultants are at the forefront of developing new approaches to treating hand and wrist pain. We offer the most advanced treatment options and use the latest techniques to ensure the best outcomes for any type of hand or wrist condition you're facing.
Customised care: We will carry out a comprehensive review of your condition, provide expert diagnosis, and put in place an individualised treatment and rehabilitation plan just for you.
State-of-the-art facilities: Our hospital and outpatient centre are brand-new, equipped with the latest technology and designed for the best possible patient experience.
Hand and Wrist Treatment at Cleveland Clinic London
Common conditions we treat:
Arthritis of the hand and wrist.
Carpal tunnel syndrome: a common condition that causes pain, numbness, tingling and weakness in the hand and wrist.
Dupytren's disease: a condition that produces bumps or nodules (growths of abnormal tissue) on the palm.
Forearm injuries (those between your elbow and wrist).
Fractures of the hand or wrist.
Ligament, tendon or cartilage injuries.
Skier's thumb: an injury to the ligament (soft tissue) that connects the bones of your thumb together.
Pinched (entrapped or compressed) nerves in the hand or wrist.
Trigger finger/thumb: a condition that causes your finger or thumb to get stuck in a bent position – as if squeezing a "trigger".
Treatment and care:
Following a swift diagnosis, that often includes a thorough physical examination and X-rays, treatment will be tailored to you and your condition.Initial treatment for many hand and wrist conditions typically begins with conservative measures such as activity modification, splinting, heat/ice and anti-inflammatory medications. When these measures no longer alleviate pain or conditions worsen, your doctor may recommend surgical treatment, such as:
Joint fusion (also called arthrodesis): fusion or joining bones in the hand and wrist to eliminate pain with movement.
Joint replacement.
Tendon surgeries including procedure's to release trigger finger/thumb (tenolysis) and tendon transfers to replace non-working muscles and tendons in the hand.
Wrist arthroscopy: a minimally invasive surgical procedure used to diagnose and treat problems with the wrist joint.
Learn More
Contact us or call +44 (0)20 3423 7500 for more information about our hand and wrist services.