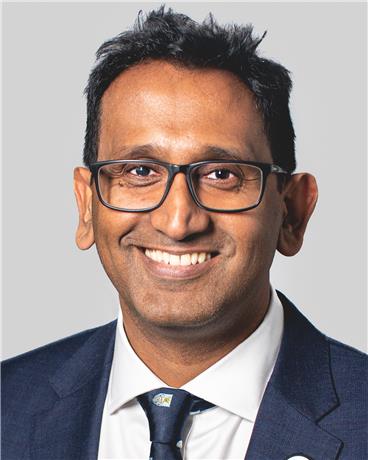 Clinical Interests
Balanitis

Benign Prostatic Enlargement/Hyperplasia (BPE/BPH)

Bladder Prolapse

Erectile Dysfunction

Kidney Stones

Male Infertility

Overactive Bladder

Penile Masses

Prostate Cancer

Raised PSA

Scrotal Masses

Ureteropelvic Junction Obstruction

Urinary Tract Infections
Specialties
Laparoscopic Pyeloplasty

Open Pyeloplasty

Open Radical Prostatectomy (ORP)

Robot-Assisted Radical Prostatectomy

Transurethral Resection of the Prostate (TURP)

Ureteroscopy (URS)

Urodynamics
Biography
Mr Prasanna Sooriakumaran, globally known by his initials PS, is the Lead for Urology at Cleveland Clinic London. He is a world leader in prostate cancer care. Mr Sooriakumaran is the only surgeon to win the University of Surrey's Alumni Achievement Award for his "significant contributions to society and the field of prostate cancer care". He was triple nominated for the Crystal Matula Award, awarded to the most promising young academic urologist in Europe. Mr Sooriakumaran specialises in Retzius-sparing robotic prostatectomy, an operation that has far fewer side-effects than the standard robotic procedure in select prostate cancer patients. He is a world leader in this technique and produces world-class outcomes. Results after prostate cancer surgery are strongly related to the training of the surgeon who performs the operation, and he was trained by the world's best: global pioneers of robotic surgery at Ivy League's Cornell University in New York and the Nobel Prize-awarding Karolinska Institute in Stockholm. His mentors have a cumulative experience of over 20,000 robotic surgeries. Following his exceptional international training, he undertook a Senior Fellowship at the world-renowned Oxford University where he still holds a visiting appointment as a Senior Researcher. PS is a family man and spends his spare time playing golf with his children and lunching with his wife.
Research & Publications
See publications for Mr Prasanna (PS) Sooriakumaran.
(Disclaimer: This search is powered by PubMed, a service of the U.S. National Library of Medicine. PubMed is a third-party website with no affiliation with Cleveland Clinic.)
Professional Memberships
General Medical Council (GMC), British Medical Association (BMA), British Association of Urological Surgeons (BAUS), European Association of Urology (EAU)
GMC Number
4645940
NHS Base
University College London Hospitals NHS Foundation Trust