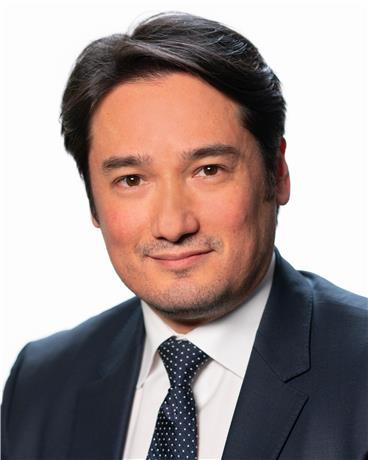 Clinical Interests
Arthritis of the Spine

Back Pain

Carpal Tunnel Syndrome

Cavernoma

Chiari Malformation

Chordoma

Complex Fractures

Herniated Discs

Kyphoscoliosis

Malignant Bone Tumour

Meningioma

Myelopathy

Neck Pain

Sarcoma

Sciatica

Scoliosis

Spinal Fractures

Spinal Stenosis

Spine Tumours
Specialties
Bone Tumour Surgery

Complex Fracture Fixation

Kyphoplasty

Spinal Fusion Surgery

Spine Surgery
Biography
Mr Vittorio Russo is a fellowship trained Consultant Complex Spinal Neurosurgeon at the world-renowned National Hospital for Neurology and Neurosurgery, Queen Square (UCLH) and Honorary Associate Professor at the Institute of Neurology (UCL). Mr Russo is dual trained in neurosurgical and orthopaedic spinal surgery, having successfully completed prestigious training fellowships in the UK and USA, including the Royal National Orthopaedic Hospital and National Hospital for Neurology and Neurosurgery, Queen Square in London UK, Nuffield Orthopaedic Centre and John Radcliffe Hospital in Oxford UK, and LSU in New Orleans USA. He is specialised in the management and treatment of all the spinal conditions with special interest in highly complex spinal surgery. Mr Russo has one the largest adult spinal tumour practice in the UK treating both primary and metastatic bone, spinal cord and nerves tumours. He is also expert in complex spinal reconstructive surgery including deformities, revision surgery, spinal traumas, cranio-cervical junction surgery, minimally invasive spinal surgery, cervical artificial discs. He is the lead clinician for the acute spinal tumour service, including metastatic spinal cord compression (MSCC) at the National Hospital for Neurology and Neurosurgery, Queen Square. Mr Russo is author of several publications in international journals and has presented at international congresses in the USA, UK and Europe. He won the Best Podium Presentation Award at the congress of the European Association of Neurosurgical Societies (EANS). He was also awarded the prestigious Presidents' Travelling Fellowship from the British Scoliosis Society (BSS) and the British Association of Spine Surgeons (BASS).
Professional Memberships
British Association of Spinal Surgeons (BASS), The Society of British Neurological Surgeons (SBNS), The General Medical Council (GMC) and The American Association of Neurological Surgeons (AANS).
GMC Number
7198586
NHS Base
University College London Hospitals NHS Foundation Trust