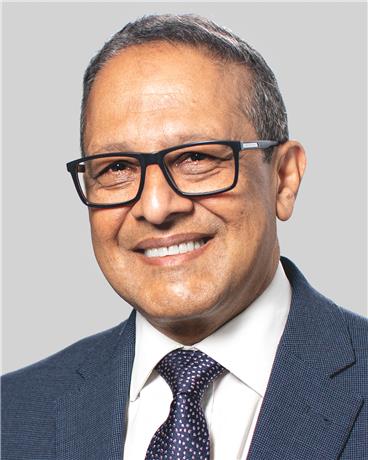 Clinical Interests
Achalasia

Acid Reflux

Gallstones

Gastrointestinal Stromal Tumour (GIST)

Gastro-Oesophageal Reflux (GORD)

Hiatal Hernia

Oesophageal Cancer

Oesophageal Disorders

Parathyroid Disease

Stomach Cancer

Thyroid Goitres

Thyroid Tumours

Tracheo-oesophageal Fistula
Specialties
Antireflux Surgery

Gastrectomy

Laparoscopic Cholecystectomy

Laparoscopic Gallbladder Surgery

Laparoscopy

Oesophageal Reconstruction

Oesophagectomy

Thyroid Cancer Surgery

Upper Gastrointestinal (GI) Surgery

Upper Gastrointestinal Endoscopy
Biography
Professor Muntzer Mughal qualified from the University of Manchester in 1977 and completed his surgical training in the North West of England. In 1991 he was appointed Senior Lecturer in Manchester working alongside Professor Sir Miles Irving in the Intestinal Failure Unit as well as developing a practice in oesophagogastric surgery. He was appointed consultant surgeon at Lancashire Teaching Hospitals FT in 1991 before being invited to be the Head of Upper GI Services at University College London Hospitals in 2010. Over the last 10 years, Professor Mughal has increasingly specialised in complex oesophagogastric surgery dealing with complications and reoperations for failed antireflux surgery. He has particular expertise in oesophageal reconstruction and the treatment of tracheoesophageal fistula. He has also been involved in improving outcomes for oesophagogastric cancer, leading on reconfiguration of oesophagogastric cancer surgery in the North West of England and London. From 2018 to 2020 he served as the Chief Medical officer for the North Central and North East London Cancer Alliance. He has also worked with NHS England in developing the streamlining of cancer MDTs. Professor Mughal has a long-standing interest and track record in teaching, training, mentorship and clinical leadership. He was a founding member of NICE, and has held various roles and positions at a national level including the SAC in General Surgery, regional representative for the Association of Upper GI Surgeons, Regional Adviser for the Royal College of Surgeons. He has served on the Court of Examiners of the Royal College of Surgeons and the Intercollegiate Speciality Board in General Surgery. His hobbies include running and he has completed 18 marathons raising over £20000 for cancer charities.
Research & Publications
See publications for Prof Muntzer Mughal.
(Disclaimer: This search is powered by PubMed, a service of the U.S. National Library of Medicine. PubMed is a third-party website with no affiliation with Cleveland Clinic.)
Professional Memberships
Royal College of Surgeons of England, Association of Upper GI Surgeons, Association of Surgeons of Great Britain and Ireland
GMC Number
2382638