Research & Education
Research & Education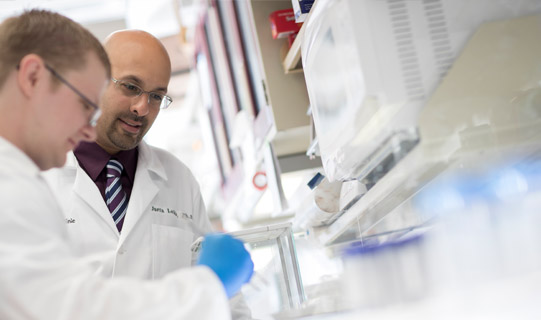 At Cleveland Clinic, we are always striving to learn and innovate. Nowhere is this more apparent than through our focus on research and medical education. As a multispecialty academic medical centre, we integrate clinical and hospital care with research and education and are proud to manage the world's largest continuing medical education programme. This focus on research and education will be a core part of our mission at Cleveland Clinic London, under the leadership of Tommaso Falcone, MD Chief Academic Officer & Chief of Staff.
Cleveland Clinic London will work alongside and collaborate with leading universities in order to continually improve the care we deliver. We will also collaborate with London physicians and the Royal Colleges so that technology, research, education and clinical best practices are shared to meet the growing demand for innovation in healthcare worldwide.
Our London clinic will work closely with our U.S. hospitals and the Lerner Research Institute, which is at the forefront of advanced techniques and biological discovery. The institute is home to all basic, translational and clinical research at Cleveland Clinic—research that has the potential to change the way we practice medicine. With nearly 1,500 researchers and support personnel in 180 laboratories in 11 departments, the Lerner Research Institute is one of the largest research institutes in the U.S., consistently ranking in the top 10 in National Institutes of Health funding, a benchmark of research success. Research impact areas include cardiovascular research, inflammation sciences, cancer research, and brain and eye research.
Our researchers at Cleveland Clinic London will collaborate with Lerner's traditional laboratory scientists as well as experts in the Genomic Medicine Institute, Cleveland Clinic's home of genetics-based research, clinical care and Caregiver education, and the Department of Quantitative Health Sciences, which provides critical support in medical decision making, biostatistics and clinical outcomes research.
Consult QD, Cleveland Clinic's online portal for physicians and healthcare professionals, will serve as an important link with Cleveland Clinic London, allowing practitioners to stay abreast of our latest research insights, innovations, treatment trends and more.
These efforts will be complemented by our Center for Continuing Education, which is committed to sharing a wealth of knowledge with physicians, nurses and other medical professionals worldwide and has been doing so for more than 80 years. Its objective is to provide high-quality, innovative educational programmes that increase the knowledge of healthcare providers, resulting in improved patient outcomes. The Center is accredited at the highest level by the Accreditation Council for Continuing Medical Education (ACCME) and its live courses across the U.S. feature top-rated faculty members, who provide expert presentations in all specialties, including those four key specialties that will be our core area of focus at Cleveland Clinic London: Heart and Vascular, Digestive Disease, Neuroscience, and Orthopaedics.
Research Collaborations & Visiting Professors
Research Collaborations & Visiting Professors
There is a strong commitment across Cleveland Clinic to drive advancements in medicine and improve patient care through leading-edge research and educating the next generation of researchers. Collaborating with other institutions and academic researchers will play a vital role in doing just that.
Yan Wang, MD, PhD — Biomedical Engineering, Lerner Research Institute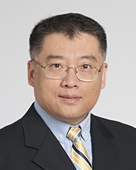 Dr Yan Wang received his medical degree from China Medical University, and completed residency training in Dermatology and fellowship training in Skin Surgery at No. 1 Hospital of China Medical University. He earned his Doctor of Philosophy in Exercise Physiology at West Virginia University Health Science Center. Dr Wang's postdoctoral research projects have been focused on investigating the role of hyaluronan (HA), Hyaluronan Synthases (Has1, Has2 and Has3) and CD44, the major receptor for HA, in regulating the behavior of skin fibroblasts during skin wound healing. Dr Wang is now a NIH K-12 Glycoscience Scholar and will be using both transgenic mouse model and human skin samples to investigate the pathogenesis of diabetic skin ulcers from a glycobiologic angle.
Dr Wang will be presenting his work at the 12th International Conference of Hyaluronan hosted by the International Society for Hyaluronan Sciences in June 2019, in Cardiff, Wales, UK.
Jacob Scott, MD, DPhil — Translational Hematology and Oncology Research, Lerner Research Institute; Department of Radiation Oncology, Taussig Cancer Institute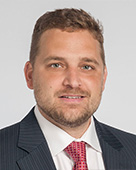 Dr Jacob Scott received his medical degree from Case Western Reserve University School of Medicine and his doctor of philosophy in mathematics at the University of Oxford, St Anne's College. He completed residency training and post-doctoral fellowship at H. Lee Moffit Cancer Center in Tampa, Florida. He studies mathematical modeling of how tumors evolve when treated with radiation. Dr Scott collaborates with Professor Trevor Graham at Barts Cancer Institute, Queen Mary University of London on mechanisms of carcinogenesis and cancer evolution. He is working with Dr Andrea Sottoriva of the Institute of Cancer Research, London on predicting cancer evolution and therapeutic sensitivities.
Dr Scott will be attending the International Society for Evolution, Ecology and Cancer Conference on 16-19 July 2019 at the Wellcome Genome Campus, Hinxton, UK. Dr Scott will also be speaking at a workshop entitled Cancer Biology and Treatment – From Computational Models to Treatment Decisions on 5-6 September 2019 at St Catherine's College, Cambridge, UK.
Suneel Apte, MBBS, DPhil — Biomedical Engineering, Lerner Research Institute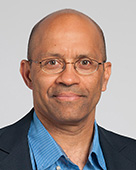 Dr Suneel Apte earned his doctor of philosophy in clinical medicine at the University of Oxford and trained as a post-doctoral fellow at Harvard Medical School. Dr Apte is an expert in extracellular matrix, proteases and their role in human diseases. His laboratory performs fundamental research to understand congenital birth defects, connective tissue disorders such as Marfan syndrome and acquired disorders such as aortic aneurysms, osteoarthritis, fibrosis and glaucoma. Dr Apte is a member of Oxford University's Kennedy Institute of Rheumatology Scientific Advisory Board. He collaborates on matrix-degrading proteases with Professor David Lane's group in the Centre for Haematology at Imperial College London. Dr Apte published recently with Dr Yalda Jamshidi at St. George's University of London on genetics of cardiac conduction.
Dr Apte plans to visit London in autumn of 2019 to discuss his work. In 2020, Dr Apte will be a visiting professor at the Wellcome Centre for Cell-Matrix Biology at the University of Manchester, UK.
Christine O'Connor, PhD — Genomic Medicine Institute, Lerner Research Institute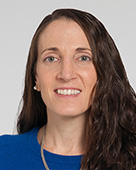 Dr Christine O'Connor earned her doctorate from the University of Virginia in microbiology and completed post-doctoral fellowship training at Princeton University. Dr O'Connor studies latency, reactivation and viral pathogenesis of human cytomegalovirus. She holds a Burroughs Wellcome Collaborative Travel Research Grant that supports her work aimed at understanding epigenetic regulation during HCMV latency with Dr Peter DiMaggio at Imperial College London. Dr O'Connor also collaborates with Professor John Sinclair of the University of Cambridge studying the function of HCMV-encoded proteins during latency and reactivation. She is also working with Dr Matt Reeves of the University College London on HCMV latency and reactivation in the transplant setting.
Dr O'Connor will be visiting London in May and June of 2019.