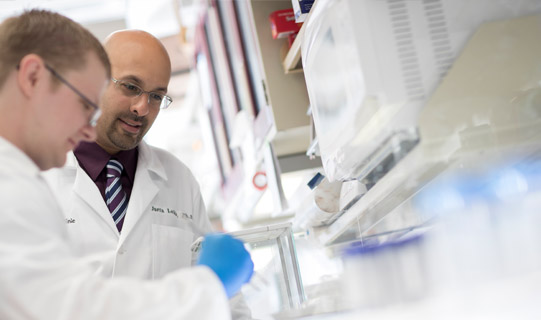 At Cleveland Clinic, we are always striving to learn and innovate. Nowhere is this more apparent than through our focus on research and medical education. As a multispecialty academic medical centre, we integrate clinical and hospital care with research and education and are proud to manage the world's largest continuing medical education programme. This focus on research and education will be a core part of our mission at Cleveland Clinic London, under the leadership of Tommaso Falcone, MD Chief Academic Officer & Chief of Staff.
Cleveland Clinic London will work alongside and collaborate with leading universities in order to continually improve the care we deliver. We will also collaborate with London physicians and the Royal Colleges so that technology, research, education and clinical best practices are shared to meet the growing demand for innovation in healthcare worldwide.
Our London clinic will work closely with our U.S. hospitals and the Lerner Research Institute, which is at the forefront of advanced techniques and biological discovery. The institute is home to all basic, translational and clinical research at Cleveland Clinic—research that has the potential to change the way we practice medicine. With nearly 1,500 researchers and support personnel in 180 laboratories in 11 departments, the Lerner Research Institute is one of the largest research institutes in the U.S., consistently ranking in the top 10 in National Institutes of Health funding, a benchmark of research success. Research impact areas include cardiovascular research, inflammation sciences, cancer research, and brain and eye research.
Our researchers at Cleveland Clinic London will collaborate with Lerner's traditional laboratory scientists as well as experts in the Genomic Medicine Institute, Cleveland Clinic's home of genetics-based research, clinical care and Caregiver education, and the Department of Quantitative Health Sciences, which provides critical support in medical decision making, biostatistics and clinical outcomes research.
Consult QD, Cleveland Clinic's online portal for physicians and healthcare professionals, will serve as an important link with Cleveland Clinic London, allowing practitioners to stay abreast of our latest research insights, innovations, treatment trends and more.
These efforts will be complemented by our Center for Continuing Education, which is committed to sharing a wealth of knowledge with physicians, nurses and other medical professionals worldwide and has been doing so for more than 80 years. Its objective is to provide high-quality, innovative educational programmes that increase the knowledge of healthcare providers, resulting in improved patient outcomes. The Center is accredited at the highest level by the Accreditation Council for Continuing Medical Education (ACCME) and its live courses across the U.S. feature top-rated faculty members, who provide expert presentations in all specialties, including those four key specialties that will be our core area of focus at Cleveland Clinic London: Heart and Vascular, Digestive Disease, Neuroscience, and Orthopaedics.