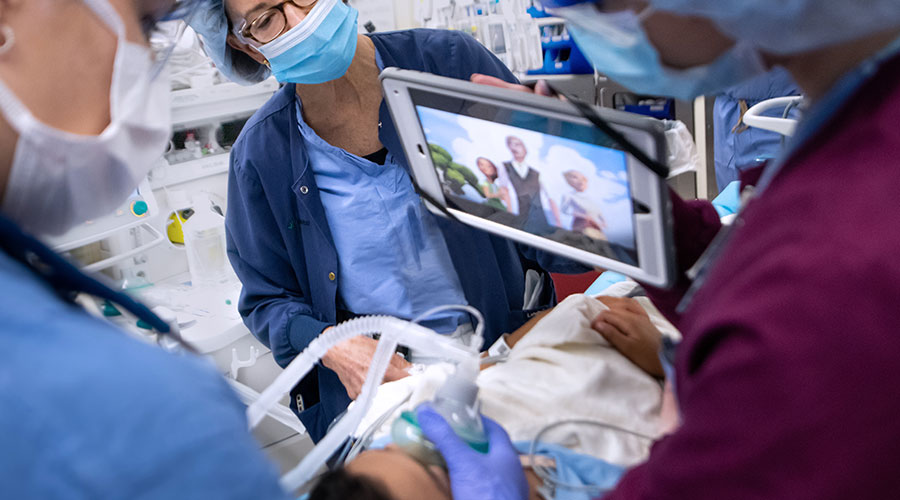 When you need surgery or specialised care for a condition, your consultant anaesthetist at Cleveland Clinic London will keep you safe and comfortable. From preoperative assessments to postoperative monitoring, you receive attentive care during every stage of your treatment and recovery.
Anaesthesia: Why Choose Cleveland Clinic London?
Highlights of our anaesthesia program include:
Expert team: Our consultant anaesthetists have training and experience from many of the most renowned centres in the world. They're trained in anaesthesia, sedation, critical care and pain management, with expertise in cardiothoracic, neurosurgical and all other speciality areas of anaesthesia. They work closely with your consultants, nurses and support team to deliver round-the-clock care. A specialised consultant anaesthetist is on call 24/7 in case of any complications.
Personalised plan: We customise your care to meet your needs. Our experts thoroughly evaluate your overall health, medical history and the type of surgery or treatment you need. We perform thorough testing and discuss your preferences before recommending an anaesthesia plan.
Compassionate care: We encourage you to ask questions about your anaesthesia plan. You may be concerned about potential side effects, discomfort or what you can expect before or after your procedure. We take the time to address your concerns so you have peace of mind.
State-of-the-art facility: Our facility features advanced surgical wards and one of the largest intensive care units (ICUs) in the U.K. private healthcare sector. Every room has the latest technology for administering anaesthesia and monitoring your condition. You stay safe and stable throughout your treatment journey.
Anaesthesia Services We Offer
We offer a range of anaesthesia services. Your care team will discuss with you which anaesthetic is appropriate for your needs:
General anaesthetic: You may receive general anaesthetic for most surgeries. You're unconscious and don't feel any pain or awareness during your procedure. We may give you a general anaesthetic through a vein in your arm (IV). For those who have a fear of needles, other options are available.
Regional anaesthetic: For some procedures, we only need to block pain in a region of your body, such as your back or lower limbs. You may be awake or gently sedated during the procedure, but you won't feel any pain or discomfort. We deliver the anaesthetic through a jab to numb your nerves. A spinal, which numbs your spine, is a type of regional anaesthetic.
Local anaesthetic: We may recommend local anaesthetic for minor procedures when only one small part of your body needs to be numb. Sometimes, you may need a local anaesthetic before getting a regional anaesthetic, such as an epidural.
Sedation: Sedation feels like a deep sleep. You're relaxed and don't feel pain, but you're not completely unconscious. You can wake up quickly after sedation. Sometimes you need sedation during imaging scans or interventional (catheter-based) procedures.
Airway management: While you're under anaesthesia, we make sure you can breathe without difficulty. We may give you oxygen through a mask. Or you might need help breathing through a tube that goes in your trachea (windpipe).
Pain control: You may feel discomfort after surgery or a medical procedure. We assess the severity of your pain and provide the right pain relief for your needs. We offer patient-controlled analgesia (pain management) devices as well as daily pain rounds to ensure your comfort. With less pain, you can focus on rehabilitation and healing.
Learn More
Contact us or call +44 20 3423 7500 for more information about our anaesthesia services.