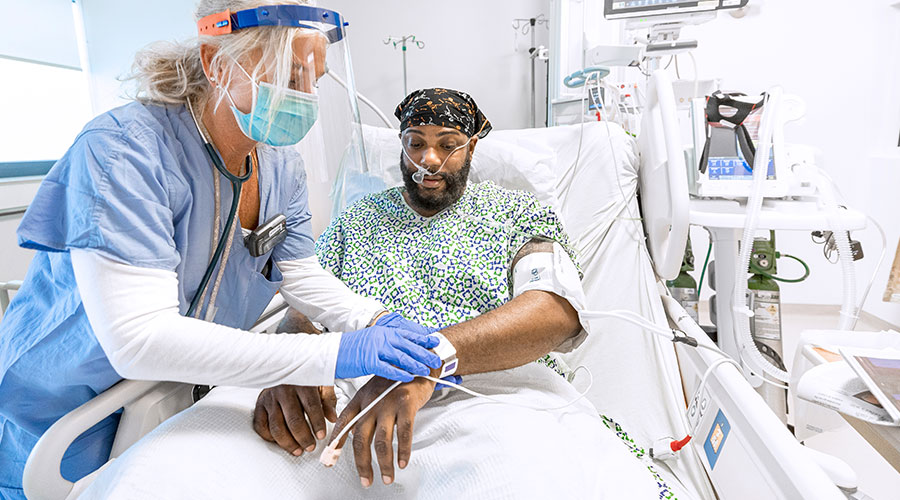 If you have a serious or life-threatening health condition, you need the highest level of care. At Cleveland Clinic London, we offer 24/7, fully monitored care from some of the world's leading experts.
We have one of the largest, most technically advanced facilities in the U.K. private healthcare sector. Our hospital's intensive care unit (ICU) is equipped to expertly manage the most serious medical conditions and complications. Our advanced technology and equipment help us keep you at our facility, so you don't need to transfer to another hospital if your condition worsens.
Critical Care and ICU: Why Choose Cleveland Clinic London?
Highlights of our critical care services include:
State-of-the-art facility: Our new adult ICU features 29 private rooms and the latest technology. We offer on-site imaging, continuous monitoring and equipment to keep you stabilised and safe.
Skilled team: Our team includes on-site critical care-trained anaesthetists and intensivists, consultants who specialise in caring for patients in the ICU. They collaborate with a diverse group of consultants from cardiothoracic surgery, neurosurgery, digestive diseases and other specialty areas. This expertise ensures you get the best, most comprehensive care, tailored to your needs.
Personalised attention: You receive individualised care from nurses, pharmacists, therapists and nutritionists. These caregivers build customised plans to optimise your recovery and get you back to feeling your best.
Continuity of care: Your critical care team communicates closely with your other doctors to ensure you receive seamlessly coordinated onward care. We also offer in-person or virtual follow-up visits after your stay in the ICU. This follow-up helps us check in with you, coordinate any care you may need and address any questions you may have.
Critical Care Services We Offer
We offer a broad range of critical care services, including:
24/7 level 3 care, which supports the most critically ill patients.
Multi-organ support for your liver, kidneys, lungs and blood, including extracorporeal membrane oxygenation (ECMO).
Ventilation and respiratory therapy for breathing assistance.
Rehabilitation from skilled physiotherapists and occupational therapists.
On-site imaging for rapid scans and timely results.
Dialysis and renal services to keep your kidneys working as you recover.
Attentive follow-up care by critical care nurses after your discharge or transfer to a ward.
Critical Conditions We Treat
You may need critical care after a planned surgery or in the event of a sudden illness or injury. We provide the expert and compassionate care you or your family may need for:
Post-cardiac surgical care and cardiac failure.
Post-neurosurgical critical care and brain injuries.
Severe infectious diseases and sepsis.
Respiratory failure requiring ventilation and weaning.
Acute liver and kidney disease.
Long-term recovery from critical illnesses.
Information for Family Members
At Cleveland Clinic London, we provide compassionate, supportive care for patients as well as their families. If your loved one is in the ICU, we do everything we can to keep you comfortable, calm and informed about their status. We provide easy access to a consultant for vital updates. Nurses and caregivers can help answer your questions and connect you to any support services you may find helpful.
Learn More
Contact us or call +44 20 3423 7500 for more information about our critical care services.