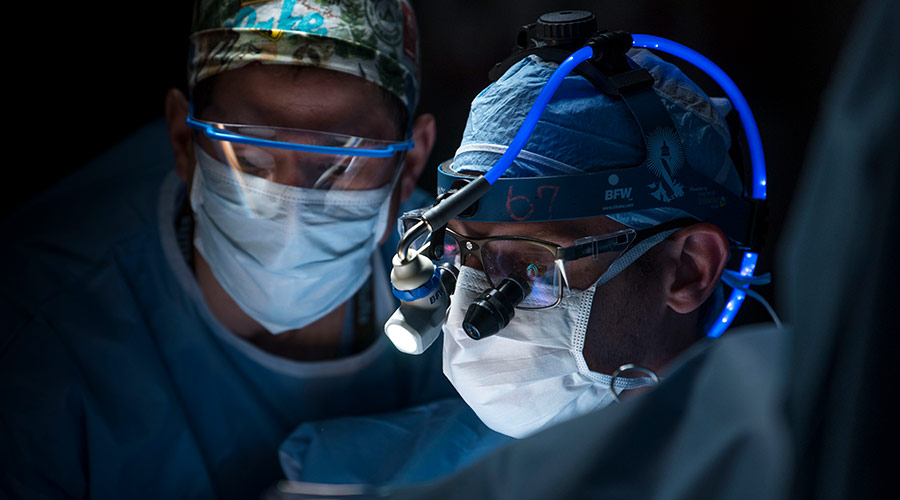 Trust the health of your heart to the expert heart surgeons at Cleveland Clinic London. We provide the most advanced treatments from an internationally renowned team of experts.
Cardiac Surgery: Why Choose Cleveland Clinic London?
Highlights of our heart surgery programme include:
Experienced team: Our surgeons are at the forefront of research and the latest advances in cardiac medicine. You receive care from a rigorously trained team with experience in key specialty areas, including cardiovascular disease, valve defects and heart rhythm disorders.
Advanced treatments for complex conditions: We specialise in heart procedures for people with the most complex and critical cardiac needs. Our cardiac surgeons offer multi-valve surgery, repeat heart surgery and combined heart valve and coronary artery bypass procedures. In many cases, we can also offer minimally invasive (keyhole) heart surgery so you can recover faster.
Coordinated care: Your heart surgeon collaborates with cardiologists, vascular surgeons, interventional cardiologists, imaging consultants and other doctors on your treatment plan. This team-based approach ensures you receive safe, streamlined care that's tailored to your needs.
Convenient access: One-stop clinics allow you to receive consultations from multiple specialists in just one visit and the cardiac diagnostic tests needed for diagnosis. We can also accommodate most in-person or virtual appointment requests within 24 hours (and often the very same day).
Heart Surgeries We Offer
Our experts recommend conservative (non-surgical) treatments for heart conditions whenever possible. But when you have a severe or complex disease that's reducing your quality of life, surgery can help. We offer a full range of procedures for even the most complex conditions:
Coronary artery bypass surgery: We use minimally invasive techniques, or a combination of endoscopic and open surgical techniques, to treat coronary artery disease. Surgeons use healthy blood vessels from elsewhere in your body (grafts) to bypass diseased or blocked blood vessels leading to your heart. Using arteries instead of veins from the legs improves long-term results after surgery.
Heart valve surgery: Our surgeons excel in innovative surgical techniques to repair or replace heart valves that are stenotic (too narrow) or regurgitant (leaking). We can also address adult congenital heart valve defects. Treatments include minimally invasive aortic valve surgery, aortic valve repair and minimally invasive/endoscopic mitral valve repair.
Left atrial appendage closure: People with atrial fibrillation have a higher risk of developing blood clots in the left atrial appendage. The LAA is a small sac-like area in one of the upper chambers of your heart. The blood clots can increase your risk of stroke. During cardiac surgery, we can close off the LAA and prevent blood clots from forming.
Thoracic aortic surgery: Cardiac and vascular surgeons work together to perform minimally invasive surgery to repair or replace sections of your aorta (the main artery in your body). We can address problems in the aortic root, aortic arch, ascending aorta and thoracoabdominal aorta.
Surgery for atrial fibrillation (AFib): In patients who have atrial fibrillation, we offer minimally invasive techniques for radiofrequency ablation (extreme heat) and cryoablation (extreme cold) at the time of cardiac surgery to restore normal heart rhythm. We create small areas of scar tissue on your heart, which disrupt the abnormal electrical impulses that cause the irregular heartbeats.
Conditions We Treat
At Cleveland Clinic London, we may recommend surgical treatment for:
Learn More
Contact us or call +44 (0)20 3423 7500 for more information about our heart surgery services.