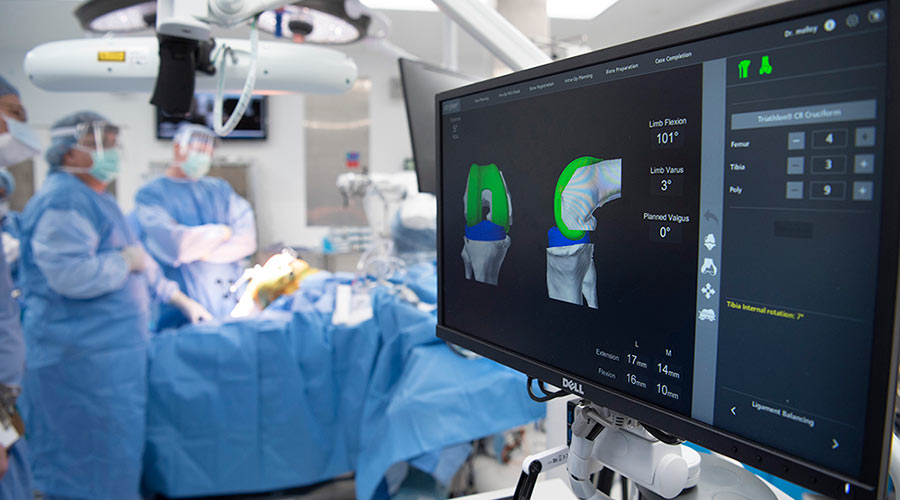 Cleveland Clinic London is home to internationally recognised orthopaedic surgeons who specialise in robotic-assisted knee and hip replacement. We combine surgical expertise with cutting-edge technology to offer you a better path to joint pain relief.
Robotic Knee and Hip Replacement: Why Choose Cleveland Clinic London?
Highlights of our robotic orthopaedic surgery programme include:
Specialty expertise: Our orthopaedic surgeons are actively involved in research and clinical trials to develop newer, more effective robotic technologies for joint replacement. They're global leaders who train future surgeons in the latest surgical techniques.
Superior outcomes: Studies show that patients who undergo robotic joint replacement have less pain during recovery than those who have traditional joint replacement surgery. Robotic procedures are also less invasive and result in fewer complications, such as implant failure, than major open joint surgery.
Innovative equipment: We are one of only a few private providers in the U.K. to have two state-of-the-art robotic systems for joint replacement surgery. This technology helps our surgeons operate with unparalleled accuracy, leading to better results for you.
The Robotic Difference for Knee and Hip Replacement Surgery
We may recommend knee or hip replacement surgery for people with severe arthritis or chronic joint pain that hasn't responded to conservative (non-surgical) therapies. Using a robotic surgical system for joint replacement enables us to:
Plan your surgery: Before surgery, we use CT scans to create a highly accurate 3D model of your joint. Your surgeon uses this to determine the right type and size of implant for your anatomy and guide optimal implant placement.
Operate with more precision: Your surgeon uses the robotic arm to prepare your joint for the implant. We carefully remove bone and damaged cartilage while preserving as much healthy tissue as possible and avoiding unnecessary damage.
Customise your new joint: With robotic guidance, we implant your new joint. Your surgeon receives real-time, computerised data about how the implant moves. We adjust its alignment as needed to achieve a more comfortable, natural feel. This technology allows for incredibly accurate implant placement and exceptional ligament balance.
Benefits of Robotic Hip and Knee Joint Replacement
Robotic hip and knee joint replacement, performed by experienced surgeons, leads to superior outcomes compared to traditional joint replacement surgery. Benefits include:
Better function.
Fewer complications.
Quicker recovery.
Shorter hospital stay.
Orthopaedic Self-Pay Services
Whether you need to know the cost of a private MRI scan, surgical procedure or other service, we can help. Cleveland Clinic London has a broad range of tests and treatments available for self-pay, so you're prepared for whatever turn your health takes. Find out more.
Learn More
Contact us or call +44 20 3423 7500 for more information about robotic orthopaedic surgery.