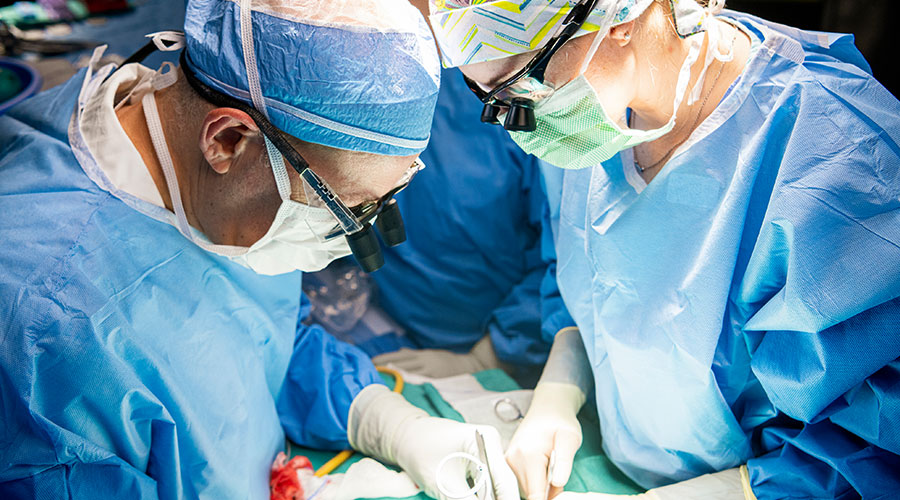 Cleveland Clinic London provides a full range of surgical services for routine and complex procedures. The U.K.'s leading surgeons use the most innovative technology available to achieve excellent outcomes — and get you back to feeling your best.
Surgery: Why Choose Cleveland Clinic London?
Highlights of our surgical services include:
Surgical expertise: Our surgeons have extensive training in many specialty areas, including cardiac surgery and gastrointestinal surgery. They work alongside experienced anaesthesia consultants, surgical nurses and other caregivers. You receive care from a highly skilled team.
Advanced technology: As one of the most technologically advanced facilities in the U.K., we offer the latest minimally invasive surgeries. From keyhole (laparoscopic) surgery to robotic-assisted procedures, you have access to treatments that can help you recover faster and with less pain.
Multispecialty team: We have a range of consultants under one roof, which means you get all the care you need in one place. No matter what kind of surgery you have, you receive one-on-one monitoring by nephrologists, pain management consultants and other providers.
24/7 critical care: Our state-of-the-art level 3 intensive care unit (ICU) features 29 private rooms, on-site imaging and equipment for multi-organ support. We're ready to provide critical care after your surgery and in the face of any serious health challenge that arises.
Personalised attention: We work with you to determine the best procedure for your health needs and preferences. Surgical consultants take the time to address your concerns and explain the risks and benefits of each treatment option.
What to Expect
Surgery is a process not just a procedure. We support you from your initial consultation through follow-up care and rehabilitation. Your care team is on hand to address your concerns, answer questions and guide you through your journey.
Before surgery
Your surgical experience begins with a thorough preoperative assessment. You meet with your surgical consultant, a nurse and, in some cases, an anaesthetist. We carefully evaluate your medical history and overall health. Our experts make sure you're ready for surgery and that we can safely perform the recommended procedure. We also discuss your recovery plan.
Your assessment may include:
Physical examination.
Imaging scans.
Lab tests.
Identification of health risks and potential surgical complications.
During your assessment, you also receive important information about:
How to prepare for surgery, including detailed instructions for the 24 hours before your procedure.
The length of your hospital stay.
Ensuring you have safe transportation home after your surgery.
What you can expect after surgery.
How to care for yourself once you go home.
Day of surgery
When you arrive for your procedure, a caregiver walks you through every step of the admissions process and escorts you to your private room. They can provide information for you and your family about how long the procedure may take and visiting protocols.
We may ask you questions about your health, such as what medications you're taking or any allergies you have. This information helps us keep you safe during and after your surgery.
You also meet the members of your care team, including your surgeon, nurse and anaesthetist. Feel free to ask them questions before the procedure begins.
Throughout your surgery, we do our best to update your loved ones about your condition.
After surgery
After surgery, we monitor your condition closely in a private recovery room to minimise the risk of postoperative complications. A pain management consultant keeps you comfortable and addresses any discomfort you may have. Pharmacists, physiotherapists and other caregivers build a recovery plan tailored to your needs.
If you need specialised care after a complex surgery, you may recover in our ICU. You receive round-the-clock care from a skilled team of critical care consultants and nurses.
When it's safe for you to go home, we help you and your loved ones prepare. We can connect you to home care services, outpatient rehabilitation therapists and support services.
Surgical Specialties
Our surgical specialties include:
Learn More
Contact us or call +44 (0)20 3423 7500 for more information about our surgical services.