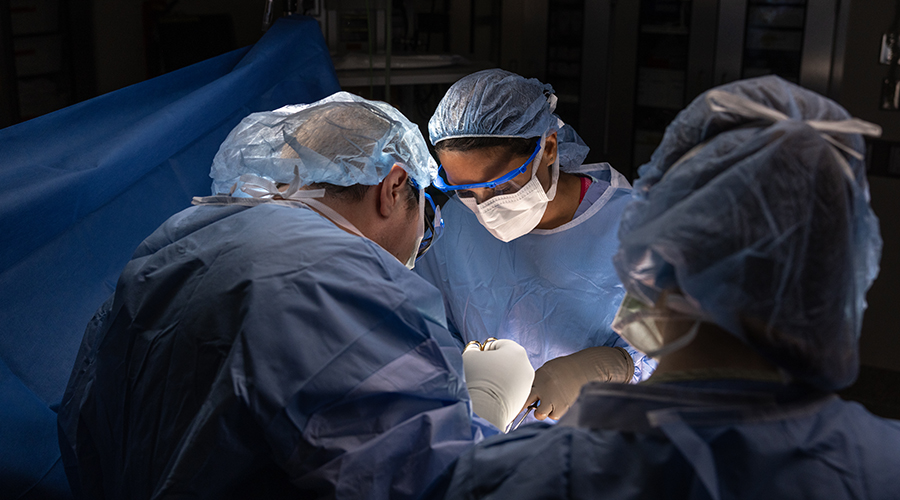 Cleveland Clinic London is home to some of the leading colorectal surgeons in the U.K. Our experts treat common and complex conditions affecting the colon, rectum, intestines and anus. We offer the latest minimally invasive procedures for bowel cancer, digestive disorders, anorectal diseases and pelvic floor dysfunction.
Colon and Rectal Surgery: Why Choose Cleveland Clinic London?
At our colorectal surgery programme, you'll find:
Expert surgeons: Our colorectal surgeons are leaders in their fields, with training from elite institutions from across the world. They're actively involved in research and education on colorectal diseases and pioneer the latest treatments. They also have extensive experience in key subspecialty areas of bowel surgery, such as complex abdominal and pelvic surgery.
Team approach: Colorectal surgeons evaluate your case with a team of specialists across multiple disciplines. They work closely with oncologists, gastroenterologists, urologists, gynaecologists and other specialists. Together, we evaluate your treatment options to ensure you receive a care plan tailored to your needs.
Minimally invasive treatments: Our surgeons have extensive experience performing laparoscopic surgery. We may recommend minimally invasive surgeries for cancer, inflammatory bowel disease (IBD) and other relevant conditions. Minimally invasive procedures can lead to a quicker recovery, less pain and fewer complications.
Focus on safety: Cleveland Clinic London is uniquely equipped to keep you safe and optimise your surgical outcomes. A dedicated team performs thorough preoperative assessments. Consultants are on call 24/7 to address your needs after surgery. We also have a state-of-the-art intensive care unit (ICU) to provide any unforeseen critical care you need.
Colon and Rectal Conditions We Treat
Our consultant-led team treats a wide range of routine and rare colon and rectal diseases, including:
Treatment for Colorectal and Abdominal Cancers
Our experts care for complex cancers using the latest techniques that may not be available at other institutions. So even if you've been told you're out of treatment options, we can help.
Our multispecialty, consultant-led team offers:
Bowel cancer treatment: We perform a range of procedures to treat early- and late-stage bowel cancers. We offer local resection (removing a small section of the bowel lining), colectomy (removing all or part of your bowel) and stent procedures for bowel obstructions.
Hyperthermic intraperitoneal chemotherapy (HIPEC): We perform surgery and use heated chemotherapy to treat advanced abdominal cancers.
Pelvic exenteration surgery: Colorectal surgeons, urologists and urogynaecologists perform major surgery for advanced cancer, removing some or all the organs in the pelvic cavity.
Advanced treatment for AIN: If you have anal intraepithelial neoplasia (AIN), a precancerous condition, our expert team provides personalised care. We discuss your treatment options with you, which may involve surgery, laser ablation or skin creams.
Treatments for Bowel Problems Requiring Complex Abdominal and Pelvic Surgery
Our surgeons have a breadth of experience unmatched by most other private centres in the U.K. We can offer treatments for complex or uncommon bowel disorders that require highly technical surgeries.
We provide surgery for benign bowel conditions including:
Complications of diverticular disease.
Enterocutaneous fistula and intestinal failure.
Neuromuscular disorders of the bowel, including pseudo-obstruction, megacolon, volvulus.
Recurrent Crohn's disease.
Restorative surgery including ileoanal pouch
Our surgeons offer complex reconstructive procedures to reverse temporary and, if possible, "permanent" stomas after colostomy or ileostomy procedures. Also known as J-pouch surgery, this procedure prevents the need for a stoma after removal of the large bowel for severe forms of ulcerative colitis and some cancers.
Multidisciplinary treatments for pelvic floor disorders
Our team of colorectal specialists works jointly with experts in urology, urogynaecology and gastroenterology to deliver comprehensive care for bowel, bladder and uterine prolapse (alone or in combination).
Our multispecialty, consultant-led team offers:
Faecal and urinary incontinence treatments, including neuromodulation using sacral nerve stimulation (SNS): During SNS, we implant a neurostimulator that helps regulate the nerves controlling your bladder and bowel. SNS may be an option for people with overactive bladder or faecal incontinence who have already tried lifestyle modifications, medication or biofeedback.
Prolapse surgery: We offer all available options for all types of prolapse, including minimally invasive procedures with or without the use of mesh.
Treatments for Other Colorectal Conditions
Additional treatments for colorectal and anorectal conditions include:
Anal fistula surgery: We offer all available options for treating simple and complex anal fistula occurring with or without other diseases such as Crohn's disease.
Haemorrhoid surgery: We offer standard (haemorrhoidectomy and stapled haemorrhoidopexy) and minimally invasive haemorrhoid removal procedures. HALO (haemorrhoidal artery ligation operation) uses stitches to reduce blood supply to piles, causing them to shrink. Our experts also perform radiofrequency ablation, which uses heat to shrink haemorrhoids.
Anal fissure surgery: We offer all available options including lateral sphincteotomy and advancement flap anoplasty.
Digestive Disease & Surgery Self-Pay Services
Whether you need a private colonoscopy, care for an existing condition like IBS or sleep apnoea, or a surgical procedure for a hernia, weight loss or something more complex, we provide clear pricing and fast access to leading consultants so you can get back to full health as soon as possible. Find out more.
Learn More
Contact us or call +44 (0)20 3423 7500 for more information about colorectal surgery.