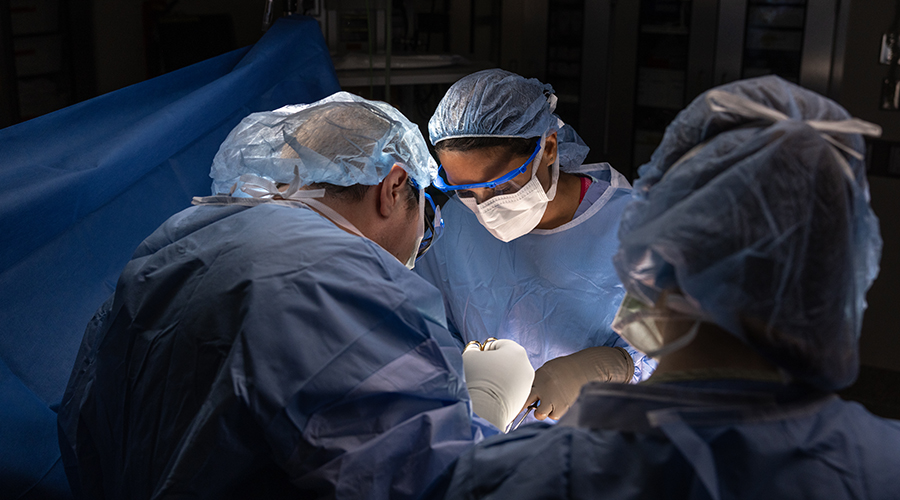 Colorectal surgery is surgery for conditions affecting the intestines, colon, rectum and anus. These procedures can effectively treat many colorectal diseases and conditions both benign and malignant (cancer).
Cancers can affect the upper and lower intestine, including the rectum and anus.
Benign conditions can be inflammatory such as ulcerative colitis and Crohn's disease. They also include afflictions of the tail end including haemorrhoids, fissures, fistulas and abscess.
Our colorectal surgeons have expertise in all types of surgery, including keyhole, robotic, endoscopic microsurgery and open surgery. Our surgeons will assess what procedure is most suitable for you and use the most advanced techniques to ensure your surgery is effective and enables you to get back to normal quickly and with a better quality of life.
Our hospital is well equipped to carry out the most complex colorectal surgical procedures, with seamless care available 24/7 and access to our high-dependency critical care unit.
Why Choose Us for Colorectal Surgery?
Colorectal surgery is a highly-specialised area. We have world-leading experts in this field. You can expect:
Extensive experience: With experience in treating any colorectal disease or condition, our surgeons are internationally renowned as leaders in their fields, and regularly undertake research into the latest techniques and treatments.
Team-based approach: Our skilled consultants, surgeons and nurses work together as a team to deliver exceptional care, taking a multidisciplinary approach. We collaborate with providers throughout Cleveland Clinic to ensure you receive complete care.
Advanced treatments: Our experienced consultants are at the forefront of developing new approaches to colorectal surgery. We offer the most advanced treatment options and use the latest techniques to ensure the best outcomes for the colorectal condition you're facing.
State-of-the-art facilities: Our hospital and outpatient centre are brand-new, equipped with the latest technology and designed for the best possible patient experience.
Colorectal Surgery at Cleveland Clinic London
Colorectal conditions that we treat include:
Anal fissure, a tear in the lining of your anus or anal canal.
Anal fistula, a small tunnel that can develop between the end of your bowel and the skin around your anus.
Colorectal cancer (early and advanced or recurrent cancers).
Colorectal peritoneal metastases, when colorectal cancer spreads to the abdominal lining.
Colorectal polyp, a growth in your large intestine or rectum.
Diverticular disease, pockets or bulges that form in lining of your intestine.
Functional bowel disorders (also known as pelvic floor disorders): problems with how your stomach and bowels function. Common bowel issues include anal pain, anorectal disease, chronic constipation, faecal incontinence, haemorrhoids and rectal prolapse.
Inflammatory bowel disease (IBD), a group of disorders that cause irritation and swelling of the digestive tract. The two main diseases that make up IBD are Crohn's disease and ulcerative colitis.
Pelvic floor dysfunction, the inability to adequately relax and coordinate your pelvic floor muscles to have a bowel movement.
Piles (haemorrhoids): lumps inside and around your anus.
Pilonidal sinus, a small hole or tunnel in the skin at the top of your buttocks, which can become infected and cause a pilonidal cyst.
Pseudomyxoma peritonei, a rare cancer that usually starts in the appendix.
We carry out surgery for common colorectal conditions, as well as complex open surgery and minimally invasive procedures. Treatments and services include:
Learn More
Contact us or call +44 (0)20 3423 7500 for more information about our colorectal surgery services.