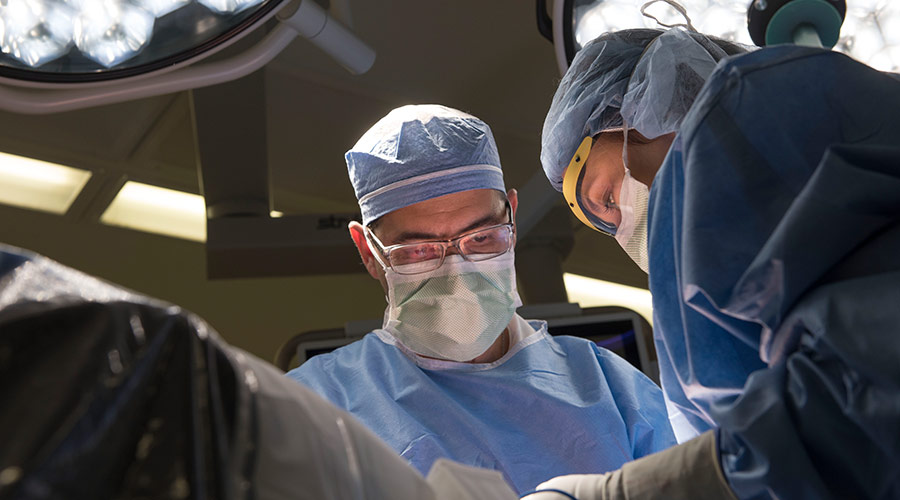 If you need to have one of the more common surgical procedures, such as to treat appendicitis, a hernia, gallstones or an abscess, you need to be confident that you will be looked after by medical professionals who have extensive experience in these procedures.
Our general surgeons carry out a large number of these procedures every year. They have the skills and knowledge to know how best to treat your condition, so that you leave their care with a better quality of life. At Cleveland Clinic London, you can have your procedure done quickly, safely and with little disruption to your life.
Why Choose Us for General Surgery?
Our general surgeons provide world-class patient care, and work with other medical professionals to ensure you are looked after before, during and after surgery. We offer:
Advanced techniques and state-of-the-art facilities: Our brand-new hospital and outpatient centre have the latest technology and equipment for general surgical procedures, which along with innovative techniques and procedures means you will be back on your feet quickly after your operation.
Extensive experience: With experience in all general surgical procedures, our highly-qualified surgeons are leaders in their fields, with most coming from London's top teaching hospitals.
Customised care: We will carry out a comprehensive review of your condition, provide expert diagnosis, plan your surgery specifically for you and your post-operative care.
Team-based approach: Our skilled consultants, surgeons, nurses and physiotherapists work together as a team to deliver exceptional care. We collaborate with providers throughout Cleveland Clinic's network to ensure you get all of the care you need.
General Surgery at Cleveland Clinic London
Common conditions we treat include:
Abscess, a collection of pus causing a painful lump that often needs a procedure to drain it.
Appendicitis, painful swelling of the appendix which often requires surgery to remove the appendix.
Gallstones, stone-like objects that develop in the gallbladder or bile ducts and often need removing through a surgical procedure.
Hernia, when an internal organ or other body part protrudes through the wall of muscle or tissue that normally contains it. Hernias usually do not get better on their own, and surgery may be needed to repair them.
Treatments and surgeries:
We offer the most advanced general surgical techniques, designed to get you back on your feet again quickly and safely.
Complex abdominal wall and abdominal hernia surgery to repair a large number of recurrent hernias or for complex, large hernias that have occurred through a previously incision (surgery).
Gallbladder removal (laparoscopic cholecystectomy): a surgical procedure where a laparoscope, a narrow tube with a camera, is inserted through a small incision and the gallbladder is then removed through another small incision.
Laparoscopic and open hernia surgery: hernia surgery can be open (where a cut is made into the body at the location of the hernia), laparoscopic (where tiny incisions are made to allow for the insertion of surgical tools) or robotic (where the surgeon operates the surgical tools from a console).
Removal of skin lesions such as skin tags, cysts or moles.
Learn More
Contact us or call +44 (0)20 3423 7500 for more information about our general surgery services.