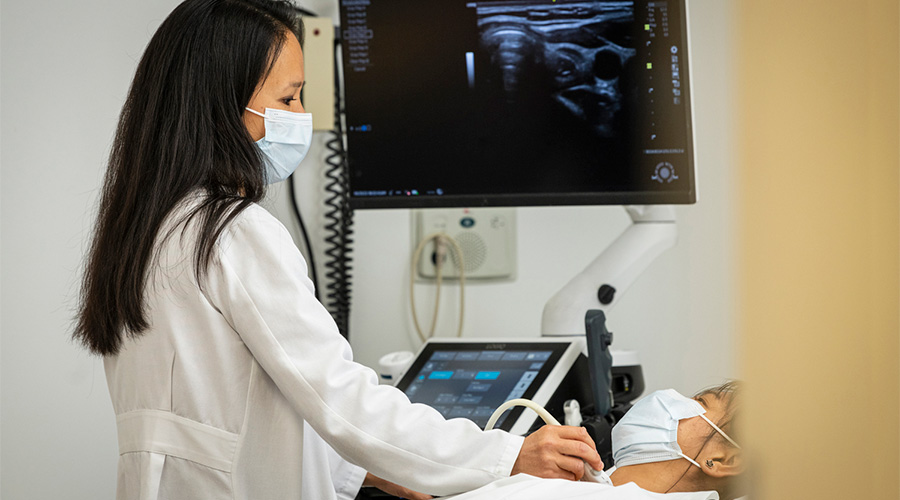 At Cleveland Clinic London, our endocrine surgeons are among the U.K.'s foremost experts in thyroid, parathyroid and adrenal disorders. Their breadth of expertise includes common and rare disorders of these hormone-producing glands, including inherited thyroid cancers, hyperparathyroidism and adrenal tumours. You receive seamlessly coordinated, multispecialty care from an elite team.
Treatment for Thyroid, Parathyroid and Adrenal Disorders: Why Choose Cleveland Clinic London?
Highlights of our endocrine surgical services include:
Team approach: Consultants across multiple disciplines meet regularly to review your case and plan your care. You receive the input of specialists in endocrine surgery, endocrinology, oncology, radiology, biochemistry and histopathology (diagnosing diseases in the tissues). In some cases, we consult with additional experts in nuclear medicine, genetics and cytology (examining cells, often for cancer).
High-volume, expert surgeons: With decades of combined surgical experience, our endocrine surgeons have performed a high number of procedures. They have a depth of experience combined with extensive training at some of the world's top hospitals. At Cleveland Clinic London, you're in the hands of experts with a track record of excellent outcomes.
Minimally invasive treatments: Whenever possible, we perform surgery using minimally invasive techniques to preserve gland function and minimise side effects. Our surgeons specialise in laparoscopic (keyhole) surgery for adrenal diseases. Patients recover faster with less postoperative pain. We also use very small incisions for parathyroid surgery where appropriate, which helps minimise scarring.
Commitment to safety: We use several techniques to make your surgery as safe and effective as possible. Laryngeal nerve monitoring during thyroid or parathyroid procedures helps us avoid damaging the delicate nerves in your voice box. We also use intraoperative parathyroid hormone monitoring to make parathyroid gland removal more precise.
Minimised risk: Advanced techniques help us localise parathyroid glands before, and in some cases during, surgery. We are at the forefront of trialling autofluorescence. This technique helps us find and preserve normal parathyroid glands during surgery to minimise the risk of these glands not working after surgery, which can lead to calcium imbalance.
Clinical and academic excellence: Our surgeons are at the forefront of the latest developments in thyroid and endocrine disease. They conduct research, lecture and are members of prestigious national surgical societies. Inside and outside the operating theatre, their sole focus is finding newer, better ways to deliver care.
Thyroid and Endocrine Conditions We Treat
We treat both routine and rare disorders of the thyroid, parathyroid and adrenal glands, including:
Thyroid and Endocrine Surgeries We Offer
Our endocrine surgeons do thorough diagnostic testing to assess the problem and determine the best course of treatment for you. In many cases, we don't need to surgically remove nodules or tumours in the thyroid, parathyroid or adrenal glands.
If growths aren't dangerous, we can leave them in place and monitor you. Watchful waiting means we perform tests regularly, including needle biopsy tests, to see if the situation changes.
We offer the latest diagnostics right at our facility, including:
Blood and urine testing.
Bone and kidney scans.
CT scan.
MRI.
Nuclear imaging.
Ultrasound-guided fine-needle biopsy.
Thyroid and Endocrine Surgeries We Offer
If we do recommend surgery, our surgeons take the time to discuss the risks and benefits of the procedure with you. This shared decision-making helps you make a more confident, informed choice about your care.
Thyroidectomy (thyroid gland removal)
You may need to have part or all of your thyroid gland removed if you have hyperthyroidism, Graves' disease, thyroid cancer, a goitre or a suspicious nodule. Before a thyroidectomy, we carefully plan your procedure to ensure we don't remove too much of your gland or damage the nearby parathyroid glands.
In the case of large or complex thyroid goitres that have grown into the chest cavity, endocrine surgeons and thoracic surgeons at Cleveland Clinic London work together to remove the abnormal growth. We are one of a few centres in the U.K. with the experts and sophisticated surgical equipment to perform this challenging procedure. Our services include an Intensive Therapy Unit (ITU) and high dependency unit, which enables us to more closely monitor your recovery after surgery when required.
Additional techniques we may use to perform your thyroidectomy as safely as possible include:
Autofluorescence guidance: This novel technique involves infrared light and a special camera to see the tiny parathyroid glands on an imaging scan as we operate. Autofluorescence guidance may help us preserve your parathyroid function.
Laryngeal nerve monitoring: We place electrodes on your voice box during surgery. A surgeon uses a small probe with an electrical current to test your nerves and muscles as we operate, helping us avoid damaging the voice box function.
Vascular mapping: Surgeons carefully map the location of the blood vessels to your parathyroid glands during thyroid surgery to assist us in preserving the parathyroid function.
Parathyroidectomy (parathyroid gland removal)
Parathyroidectomy is the most common treatment for hyperparathyroidism, which can cause high levels of calcium in the blood. The four parathyroid glands are extremely small (about the size of grains of rice) and may be in slightly different locations in each person. These factors can complicate surgical removal of the overactive gland(s).
Our surgeons have in-depth knowledge of parathyroid gland anatomy and where these hard-to-find structures may lie. They use CT scans, MRIs and nuclear imaging to locate the glands and assess their size and function. They also use parathyroid hormone monitoring during surgery to identify when all of the overactive glands are removed.
These techniques improve the accuracy of the procedure and reduce the chances of failing to remove all overactive parathyroid tissue during surgery. We also have a special lab that allows us to immediately examine any tissue removed during surgery to confirm the accuracy of the procedure.
Laparoscopic adrenalectomy (adrenal gland removal)
We assess lumps in the adrenal gland and overactive adrenal glands due to tumours. Our surgeons determine if the lumps are functioning (producing hormones) and their risk of malignancy (being cancerous). We often find adrenal tumours when looking for other conditions on abdominal scans.
Most tumours don't require surgery. But in some cases, the tumours make hormones that can cause long-term illness, so we recommend surgical treatment.
If adrenal lumps are large, cancerous or overproducing hormones, we may perform an adrenalectomy to remove the diseased gland. We often do this through a laparoscopic keyhole technique, which reduces postoperative pain and speeds up your discharge and recovery.
At Cleveland Clinic London, you'll find complete care for thyroid and endocrine concerns. Our compassionate, expert team guides your way through diagnosis, treatment and recovery.
Learn More
Contact us or call +44 (0)20 3423 7500 for more information about specialist Endocrine Surgery services.