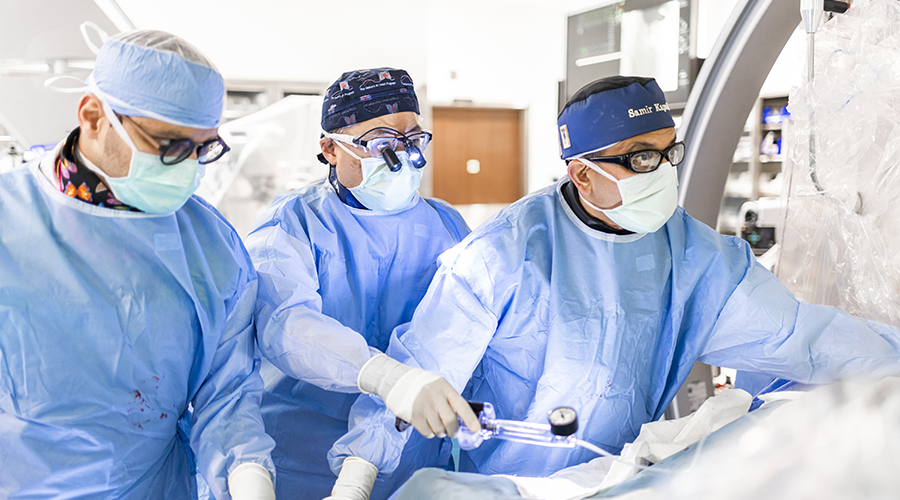 Interventional cardiology is a minimally invasive approach to treating a range of cardiac conditions. Instead of performing major open-heart surgery, we use imaging guidance and catheters (thin, flexible tubes) to access and treat the delicate blood vessels and valves in your heart.
At Cleveland Clinic London, we're leading the way in advanced interventional procedures that optimise the health of your heart. You receive the care you need with fewer risks and less downtime, so you can recover faster and get back to the life you love.
Minimally Invasive Heart Care: Why Choose Cleveland Clinic London?
Highlights of our interventional cardiology services include:
Expert team: Our interventional cardiology consultants are leaders in their fields. They come to Cleveland Clinic London with advanced training from internationally renowned teaching hospitals. You're in the care of a skilled team.
Complete care: If you have co-existing medical conditions, such as diabetes or kidney disease, we have the experts on hand to care for you during and after an interventional procedure. We tailor every treatment to your needs.
State-of-the-art facility: Our hospital features two innovative cardiac catheterisation labs and eight operating theatres, all designed for your comfort and safety. We also have the latest heart imaging equipment, including fluoroscopy, CT scans and MRI, for a range of interventional procedures.
Interventional Cardiology Services We Offer
Our interventional services include:
Angioplasty and stent placement: This procedure is also called a percutaneous coronary intervention (PCI). We open partially or completely blocked arteries with a tiny balloon and insert a stent (mesh tube) to keep blood flowing to the heart. We may use the assistance of a robot to guide the procedure for increased accuracy.
Transcatheter valve interventions: We use keyhole techniques such as transcatheter aortic valve implantation (TAVI) or transcatheter mitral valve intervention (MitraClip) to repair or replace stenotic (narrowed) or regurgitant (leaking) valves. We can also perform interventional paravalvular leak closure if you develop a valve leak after replacement surgery.
Congenital and acquired defect closures: Some people are born with a hole in the wall between their atria (top heart chambers) or ventricles (bottom heart chambers). Others can develop a hole soon after birth. Interventional cardiologists place closure devices across these holes in your heart to return the circulation back to normal.
Inferior vena cava (IVC) filter: If you have blood clots in your legs, we may insert a temporary or permanent device into a large vein in your body. The device acts as a filter, preventing the blood clots from moving to your heart or lungs, where they could cause serious complications.
Conditions We Treat
Our experts use minimally invasive techniques to treat a range of heart conditions, including:
Learn More
Contact us or call +44 (0)20 3423 7500 for more information about our interventional cardiology services.