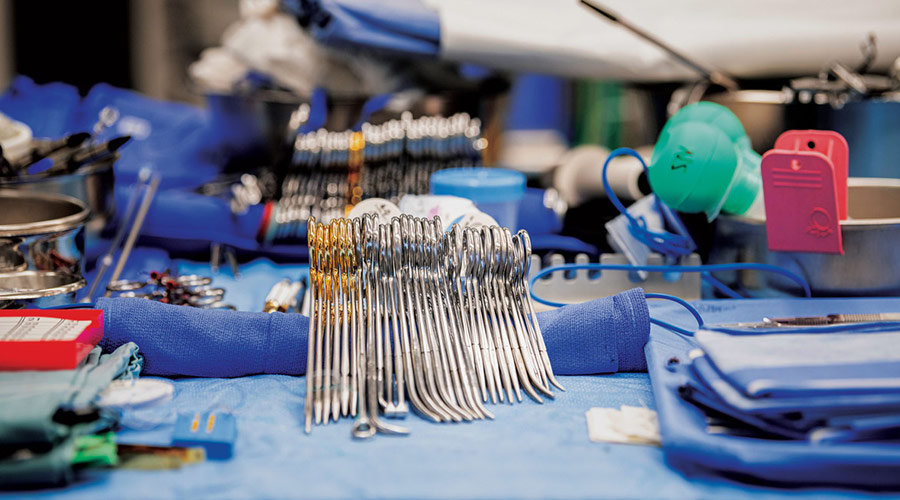 Diseases of your chest wall and in your chest cavity, including your heart, airways and lungs, can drastically reduce your quality of life. When you need timely care and a customised treatment plan, turn to the thoracic surgery experts at Cleveland Clinic London.
Thoracic Surgery: Why Choose Cleveland Clinic London?
Highlights of our thoracic surgery programme include:
Skilled experts: Our elite team of leading thoracic surgeons conducts ongoing research and training in the latest diagnostic techniques and treatments. They specialise in key areas of thoracic medicine, including keyhole and robotic lung surgery, chest wall and emphysema treatment and advanced bronchoscopy procedures.
Minimally invasive treatments: We can treat a variety of conditions inside your chest without open surgery. Our surgeons excel in minimally invasive procedures, often with the guidance of robotic technology. This surgery involves fewer risks and less downtime for recovery.
Team-based approach: Thoracic surgeons coordinate your treatment plan with the necessary consultants, including chest physicians, oncologists and other surgical groups such as ear, nose and throat (ENT), orthopaedic and cardiac surgeons. You receive streamlined, efficient care every step of the way.
Care for complex conditions: Our experts excel in the management of congenital, acquired and traumatic chest wall deformities. We also offer surgical treatment for airway diseases, cancer and chronic obstructive pulmonary disease (COPD).
Thoracic Surgeries We Offer
Our featured surgery for thoracic conditions includes:
Image-guided diagnostics and treatment:
Navigational bronchoscopy and endobronchial ultrasound bronchoscopy (EBUS): We use highly specialised instruments and advanced imaging to examine your lungs and airways. We use these procedures to take tissue samples for biopsies, remove abnormal growths or implant stents (hollow mesh tubes) to open your airways.
Imaging-guided biopsies and treatments: Our specialised radiologists are skilled in obtaining X-ray-guided needle biopsies and treatments for lung and chest conditions, including the latest techniques such as radiofrequency ablation.
Video-assisted thoracoscopic surgery (VATS): We use minimally invasive techniques and imaging guidance to assess and treat many problems in your chest. VATS may be appropriate for people with problems including lung nodules or early-stage lung cancer, pleural disease and mediastinal problems.
Lung and chest surgery:
Pleural surgery: We offer the latest surgical treatments for diseases of the pleura, the lining of the lung and chest wall. You may need surgery if you have an infection (empyema), fluid build-up (effusion) or if it causes the lung to collapse (pneumothorax). If the pleura is cancerous (mesothelioma), our highly trained surgeons offer a combined oncology surgical mesothelioma service.
Mediastinal surgery: We treat diseases affecting the chest around the heart, including cancers such as thymomas or cysts. Our thoracic surgeons offer the latest minimally invasive treatment such as keyhole and robotic surgical techniques.
Emphysema and chronic obstructive pulmonary disease (COPD) treatment: Lung volume reduction surgery (LVRS) involves removing diseased lung tissue damaged by emphysema or COPD to help you breathe better. We can also use the latest endobronchial (airway) techniques including airway valves and coils to control airflow and help them work more efficiently.
Chest wall surgery: Our thoracic surgeons are internationally recognised experts at treating chest wall conditions, including congenital disorders, acquired or traumatic injuries, chest wall tumours and diaphragm issues.
Open thoracic surgery: For some types of cancer, we may need to remove part of a lung or an entire lung. Our specialists evaluate the location of the cancer and determine whether it is primary (originating in the lungs) or secondary (originating elsewhere in the body and spreading to the lungs). This determination helps guide treatment.
Robotic-assisted procedures: For certain procedures, our experts use the assistance of a robot to guide the surgery. The robot enables them to perform surgery in delicate areas of your chest, behind your ribs and breastbone, with outstanding accuracy. We may perform robotic surgery to treat lung cancer or remove your thymus gland.
Conditions We Treat
We treat a wide range of conditions affecting your chest cavity, including the lungs, heart, windpipe, oesophagus, diaphragm and chest wall:
Lung, oesophageal cancer and secondary cancers (metastasis).
Pleural diseases, including pleural effusions, empyema, pneumothorax (collapsed lung) and mesothelioma.
Congenital, acquired and traumatic chest wall abnormalities, including pectus deformities and rib fractures or chest wall injuries.
Disorders of the diaphragm, including paralysed diaphragms.
Airway tumours or narrowings.
Hyperhidrosis (excessive sweating).
Learn More
Contact us or call +44 (0)20 3423 7500 for more information about our thoracic surgery services.