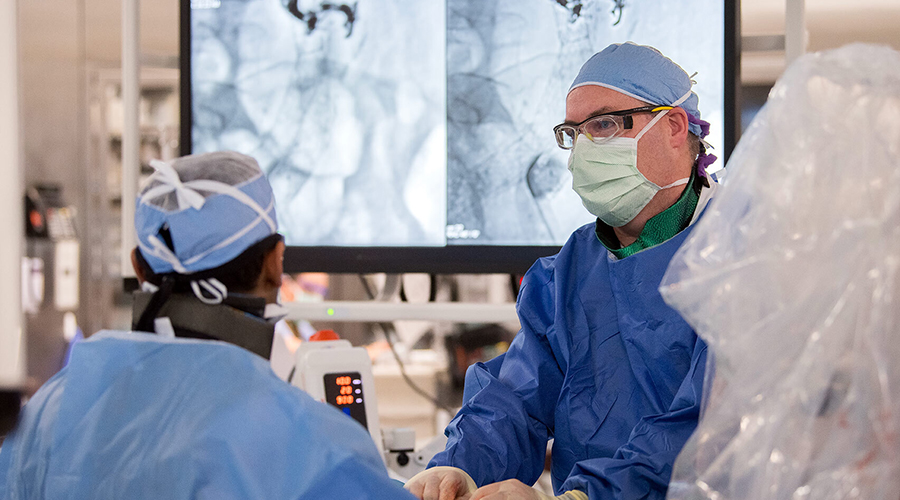 Problems in your blood vessels can lead to a range of complications, including blood clots, aneurysms or even stroke. At Cleveland Clinic London, our team of vascular experts provides accurate assessment and the timely treatments you need for every type of blood vessel disease.
Vascular Surgery: Why Choose Cleveland Clinic London?
Highlights of our vascular surgery programme include:
Expertise: Our consultants are at the forefront of the latest research, education and treatment for vascular disorders. They have training and experience in key areas, including the full range of treatments for all forms of aortic disease (conventional and minimally invasive) and the rapidly evolving field of deep venous reconstruction.
Convenient access: One-stop clinics allow you to receive consultations from multiple specialists, including the diagnostic tests needed, with just one visit. We can also accommodate most in-person or virtual appointment requests within 24 hours (and often the very same day).
Digital health records: Cleveland Clinic London is one of the only private hospitals in the U.K. to have a fully integrated digital medical records system. You, your GP and your consultants have instant access to the most accurate information about your health. This technology enables us to provide more efficient care.
Collaborative team: Vascular surgeons work closely with cardiologists, interventional cardiologists, imaging specialists, cardiac surgeons and other consultants to provide complete care for common and complex conditions. You receive a treatment plan that's seamlessly coordinated and tailored to your needs.
Vascular Surgeries We Offer
Our featured procedures for blood vessel diseases and conditions include:
Open and endovascular aneurysm repair (EVAR): We use open and minimally invasive techniques to treat aneurysms (bulges in the wall of an artery). Vascular surgeons and interventional radiologists implant stents (small metal tubes) in your artery to help blood flow and prevent a ruptured aneurysm.
Carotid endarterectomy: If you're at high risk for stroke due to carotid artery disease, we may recommend surgery to remove plaque build-up in your carotid artery (the artery that supplies blood to the brain).
Varicose vein surgery: We offer conventional surgery and endovenous surgery to treat painful varicose veins in your legs. The endovenous technique shrinks your veins by using high-frequency radio waves to create intense heat, which stops the pressure in the vein that feeds varicose veins. It is most often done on an outpatient basis under local anaesthetic.
Deep venous reconstruction: People with venous diseases may need endovascular or surgical repair or replacement of a damaged or blocked blood vessel.
Peripheral angioplasty: We open partially or completely blocked arteries (usually in your legs) with a tiny balloon. We may insert a stent (mesh tube) to keep blood flowing through your blood vessels.
Peripheral artery bypass surgery: We may recommend bypass surgery if you have severe peripheral artery disease. Surgeons use grafts (artificial tubes or veins from your own body) to bypass blocked vessels and restore blood flow.
Learn More
Contact us or call +44 (0)20 3423 7500 for more information about our vascular surgery services.