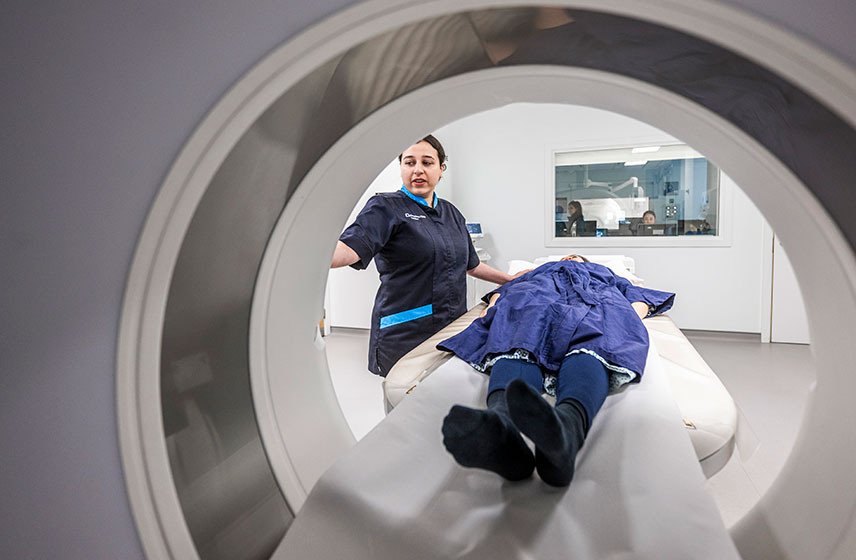 Imaging is a vital part of diagnosing and treating many diseases and conditions. At Cleveland Clinic London, we offer the most advanced imaging techniques available. You receive fast, accurate results — and the answers you need — so that we can work together to build the most effective care plan.
Diagnostic Radiology: Why Choose Cleveland Clinic London?
Highlights of our inpatient and outpatient radiology services include:
Skilled team: Our radiology consultants have extensive experience analysing and interpreting imaging scans for common and complex conditions. They work alongside a team of radiographers, nurses and other healthcare professionals that help you stay comfortable and calm for any imaging procedure.
Easy access: If you're a patient at our hospital, all of the imaging services you need are available 24/7, conveniently located under one roof. Outpatients also receive fast, easy access to screening and diagnostic scans — same-day or next-day appointments are usually available.
Coordinated care: Your radiologist communicates with your referring GP or consultant about your care. A fully integrated electronic health records system allows your team to share scans, test results and other vital information. These capabilities mean you receive timely, streamlined care.
Focus on safety and quality: We use the most up-to-date imaging equipment and minimise your radiation exposure whenever possible. Our radiology team also maintains the highest COVID-19 prevention protocols so you can safely get the scans you need.
Imaging Services We Offer
We offer a broad range of imaging services for diagnosing many conditions, including heart, brain, spine, musculoskeletal and digestive disorders. Advanced imaging techniques can also help us guide certain treatments for increased precision and accuracy.
Our team also uses imaging guidance to perform interventional radiology procedures — minimally invasive catheter-based procedures that can diagnose and treat a range of conditions. Learn more about interventional radiology.
At Cleveland Clinic London, you receive compassionate, personalised care every step of the way.
General radiography
X-rays use ionising radiation to capture images of bones and other structures in your body. Cleveland Clinic London uses the latest digital radiography to diagnose issues such as fractures, dislocations, joint problems and other conditions.
Digital X-rays show up instantly on a computer, which means fewer repeat images and less radiation exposure for you. Plus, our walk-in service for non-urgent digital X-rays makes it easy for you to get the results you need.
Fluoroscopy
Fluoroscopy uses digital X-rays to provide real-time moving images of your body structures. It's ideal for assessing your intestines, stomach, oesophagus, bladder, uterus or other body cavities. We might use fluoroscopy to find blockages or assess the shape of certain organs.
CT
CT uses ionising radiation and a computer to produce cross-sectional 3D images of your body. CT scans show more detail than an X-ray.
Cleveland Clinic London features dual-source, dual-energy CT scanners. This cutting-edge technology offers advantages over standard CT for a wide range of tests and procedures. It uses two X-ray sources to capture images in less time than a conventional CT scanner, with less radiation exposure.
Dual-source, dual-energy CT plays an important role in vascular imaging by improving image quality with less contrast dye and a lower radiation dose compared to conventional CT angiograms.
MRI
MRI uses a powerful magnet, radiofrequency waves and a computer (no radiation) to produce highly detailed, cross-sectional 3D images of your body. We may use MRI to evaluate problems in your brain, spine, nerves, blood vessels, joints, bones, internal organs and soft tissues.
We offer the most advanced MRI technology, including:
3T MRI: Provides faster, higher-resolution images than traditional MRI.
MR spectroscopy: Measures chemical changes in your brain due to tumours, epilepsy or degenerative diseases.
Functional MRI (fMRI): Measures brain activity by detecting changes associated with blood flow. This can help map brain functions and guides us for brain surgery so we can safely deliver treatment.
MR angiography: Allows us to see damaged or blocked blood vessels in your brain.
Intraoperative MRI (iMRI): iMRI refers to an operating room configuration that enables surgeons to image the patient via an MRI scanner while the patient is undergoing surgery, particularly brain surgery.
Ultrasound
An ultrasound uses sound waves (no radiation), to produce real-time pictures or videos of your organs. We can use ultrasound to diagnose conditions in many areas of the body.
At Cleveland Clinic London, we use the latest ultrasound technology to evaluate your blood vessels, uterus, ovaries, kidneys and glands.
Hospital Self-Pay Services
Whether you need to know the cost of a private MRI, ultrasound or ultrasound scan, or an interventional service such as a stent placement or angioplasty, we can help. Cleveland Clinic London has a broad range of diagnostic tests and interventional treatments available for self-pay, so you're prepared for whatever turn your health takes. Find out more.
Learn More
Call +44 20 3423 7500 for more information about our imaging services.