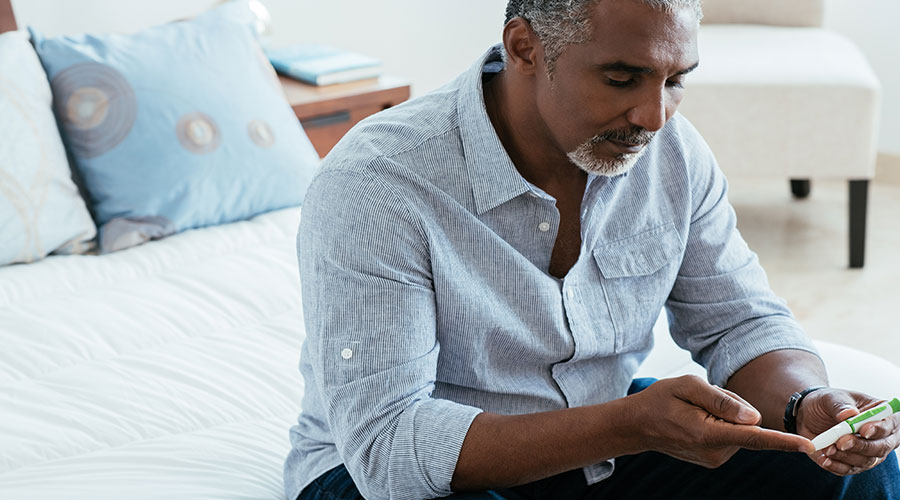 At Cleveland Clinic London, we provide comprehensive inpatient and outpatient care for people with diabetes, obesity and hormone disorders. A highly skilled team of endocrinologists offers timely assessments, diagnosis and treatment.
Diabetes and Endocrinology: Why Choose Cleveland Clinic London?
Highlights of our diabetes and endocrinology services include:
Expertise: Our nationally recognised endocrinology consultants come to Cleveland Clinic London from the foremost teaching hospitals in London. They have specialised training in key specialty areas, including diabetes-related cardiovascular disease and maternal and antenatal endocrinology. We're prepared to handle even the most complex endocrine diseases.
Advanced in-hospital monitoring: People with diabetes and endocrine gland disorders have unique needs when they require surgery or other medical procedures. Our consultants use a digital health records system to monitor your health before, during and after treatment. This innovative technology helps us provide appropriate treatment for urgent conditions and guidance on future disease management.
Team-based approach: Endocrinologists work closely with pathologists, radiologists, surgeons, intensivists and other caregivers at Cleveland Clinic London. They collaborate to ensure you receive comprehensive, streamlined care for both critical and routine health concerns. The quality and safety of your care is our top priority.
Diabetes and Endocrinology Services We Offer
Our diabetes and endocrinology services include:
Preoperative assessments: If you have diabetes or an endocrine disorder, our consultants perform thorough evaluations and testing before any surgery or procedure when appropriate. We assess your heart, kidneys and blood-glucose levels to make sure you're healthy enough for treatment.
Postoperative care: After surgery, we monitor your health closely to reduce the risk of complications. Our endocrinology and diabetes consultants monitor your blood-glucose levels and help you safely transition back onto insulin, if necessary.
Diagnostic tests and biopsies: Using state-of-the-art imaging scans and fine needle aspiration, we assess thyroid nodules, tumours and other abnormal growths in your glands. Endocrinologists, pathologists and radiologists work together to diagnose thyroid cancers as early as possible, when treatment may be more effective.
Weight management: If you carry excess weight due to an endocrine disorder, we can discuss your options for medical or surgical weight loss. We may recommend medication, lifestyle changes, nutritional counselling or bariatric surgery.
Endocrine Disorders We Evaluate and Treat
We diagnose and treat all types of conditions related to your hormones and glands, including:
Learn More
Contact us or call +44 20 3423 7500 for more information about our diabetes and endocrinology services.