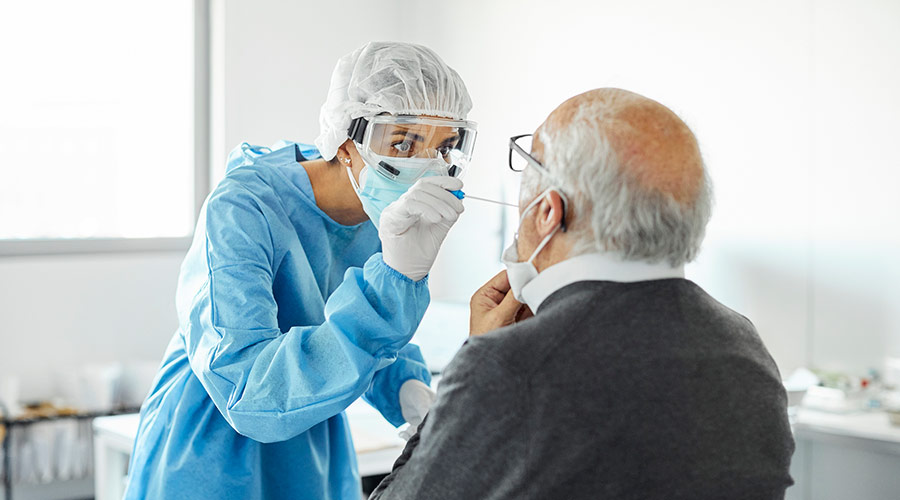 At Cleveland Clinic London, we blend research and innovation to prevent and treat a variety of infectious diseases. A select team offers outpatient consultations and 24/7 availability for inpatients who are managing even the most complex bacterial, viral, fungal or parasitic infections.
Infectious Disease Care: Why Choose Cleveland Clinic London?
Highlights of our infectious disease services include:
Skilled team: Our infectious disease doctors have extensive training in virology, microbiology, pathology and other key specialty areas. They use the latest research and evidence-based techniques to help guide your diagnosis and treatment.
Timely, accurate diagnosis: Infectious disease specialists communicate seamlessly with experts in our imaging, pathology and laboratory medicine departments. We deliver test results quickly, so you and your care team receive the answers you need to move forward with your care.
Focus on patient safety: We adhere to rigorous disease and infection prevention protocols to keep you safe. Digital health records notify our team immediately if you're at high risk for sepsis or other serious infections.
Collaborative care: Infectious disease specialists work with surgeons and intensive care consultants to minimise infection risks before, during and after your surgery. If you have a long-term infection, we take special precautions to keep you as healthy as possible.
Infectious Disease Services We Offer
We offer a broad range of infectious disease services to keep you safe in our care, including:
Preoperative assessment: Before surgery, we perform thorough testing and evaluate your infection and immunisation history. This helps us identify potential health risks and create the right care plan for people with chronic infections such as HIV or hepatitis.
Postoperative care: We provide attentive monitoring as you recover from surgery. Infectious disease consultants are available for consultations 24/7. Whether you're a patient in our intensive care unit (ICU), Acute Admissions Unit (AAU) or one of our wards, we always have the right experts on hand to address critical health concerns.
Medication management: People with a history of infectious diseases such as tuberculosis may have special needs when it comes to medications. We evaluate your entire disease and medication history to ensure you receive the most effective care plan for your needs.
Antibiotic stewardship: Antibiotics are powerful medicines, but overusing them can lead to antibiotic-resistant infections — an infection that does not respond to antibiotics. Your immune system may become less capable of fighting diseases. At Cleveland Clinic London, we advocate the appropriate use of antibiotics. We talk with you about whether antibiotics are the right treatment for your needs.
Infectious Diseases We Treat
At Cleveland Clinic London, our infectious disease specialists provide diagnosis and treatment for conditions that we might discover during your treatment for other conditions. We're prepared to handle:
Antibiotic-resistant infections.
Bone and joint infections.
Endocarditis (infection inside your heart).
Fevers of unknown origin.
Learn More
Contact us or call +44 (0)20 3423 7500 for more information about our infectious disease services.