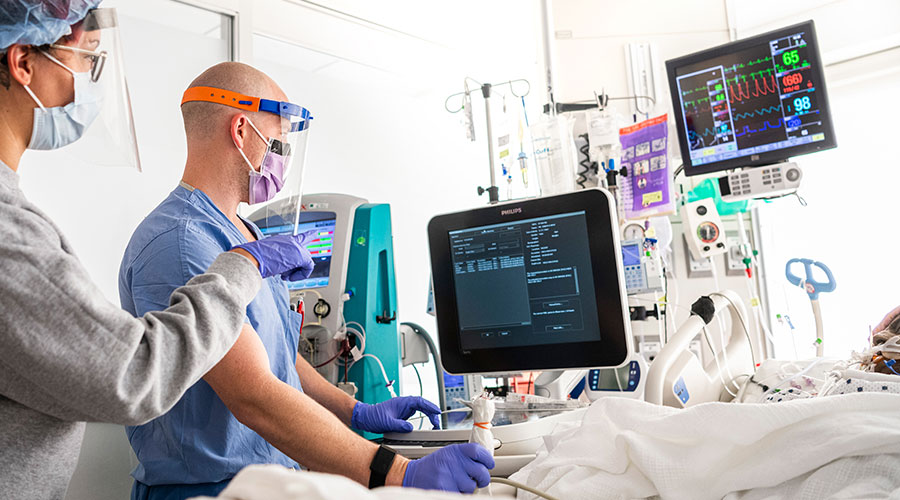 Receive the prompt, personalised care you deserve for respiratory diseases at Cleveland Clinic London. Our skilled team uses the latest evidence-based techniques to diagnose and treat acute and chronic lung problems. Outpatient clinics and hospital-based services help you breathe easier and live a higher quality of life.
Respiratory Disease Care: Why Choose Cleveland Clinic London?
Highlights of our respiratory care services include:
Expertise: Our pulmonologists have training from some of the leading national hospitals. They specialise in key areas of respiratory medicine, including lung cancer, spirometry and cardiopulmonary exercise testing. This highly skilled, select team has the experience to treat common and complex breathing problems.
Digital health records: We are the first private hospital in the U.K. to have a fully integrated digital health records system. Both you and your care team have instant access to your medical profile, including any respiratory issues you may have. This information helps us provide the most appropriate care when you need surgery, medication or any other treatment.
Team-based approach: Consultants specialising in diseases of the chest and respiratory system work closely with consultants in cardiothoracic surgery, critical care, infectious diseases and general medicine. They collaborate to ensure you receive a comprehensive treatment plan and the efficient, streamlined care you expect from Cleveland Clinic London.
Respiratory and Bronchoscopy Services We Offer
Our respiratory and bronchoscopy services include:
Pre and postoperative assessments: We perform thorough assessments before and after surgery to evaluate and monitor your breathing health. Whether you have an existing lung disease or you're at high risk for breathing difficulties due to conditions like sleep apnoea, we take every precaution to keep you safe and optimise your recovery after surgery.
Thoracic and respiratory clinics: People with chronic lung diseases or unexplained respiratory problems have access to our weekly outpatient clinics. You receive a timely assessment and diagnosis from experienced respiratory consultants who can refer you to the right care.
Lung function testing: We offer a comprehensive suite of pulmonary function tests to assess how well your lungs are working. Tests such as spirometry, VO2 max, CPAP tests and cardiopulmonary exercise testing help us evaluate your readiness for surgery and diagnose breathing disorders.
Post-COVID-19 recovery: People who have had COVID-19 and are still experiencing long-term effects ("long COVID") such as breathlessness may need specialised evaluations. Specialists in primary care, neurology and cardiology select the right tests for your needs, provide prompt results and connect you to the treatments that can help you recover.
Endobronchial ultrasound bronchoscopy (EBUS): During this minimally invasive procedure, we insert a thin tube (bronchoscope) into your mouth and down your windpipe. The tube has a tiny camera that shows us detailed, real-time images of your lungs. We can evaluate lung cancer, infections and inflammatory conditions. We can also take a small tissue sample for examination (biopsy). EBUS doesn't require any incisions (cuts), and most patients can return home the same day as their procedure.
Respiratory Conditions We Treat
At Cleveland Clinic London, we provide expert assessments, advice and treatment for a broad range of respiratory conditions:
Learn More
Contact us or call +44 20 3423 7500 for more information about our respiratory and bronchoscopy services.