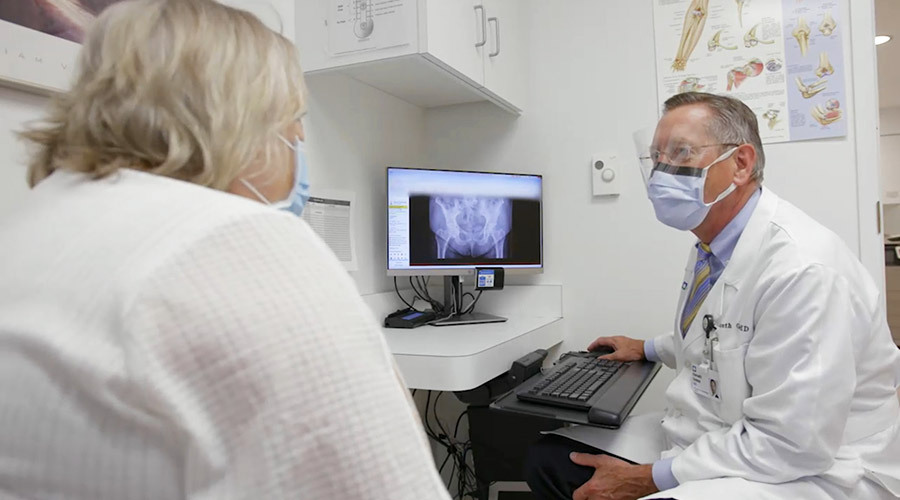 At Cleveland Clinic London, you'll find the U.K.'s foremost experts in anterior hip replacement surgery. This minimally invasive and muscle-sparing technique offers many benefits over traditional hip replacement, including less pain and a quicker recovery. Our team has a breadth of experience with this innovative procedure, consistently delivering excellent outcomes and life-changing results.
What Is Direct Anterior Approach Hip Replacement?
Direct anterior approach hip replacement means we operate on your hip through a small incision (about 6 centimetres, or the width of a credit card) at the front of your hip, near your groin.
During the anterior approach, we don't cut the muscles to access your hip joint. This highly specialised technique requires the surgeon to manoeuvre between delicate soft tissues and nerves, rather than through muscles. It allows access to the hip joint while greatly reducing the risk of muscle fibre damage.
Minimally Invasive Hip Replacement: Why Choose Cleveland Clinic London?
Minimally invasive hip surgery is a highly specialised area. When you come to Cleveland Clinic London, you'll find world-leading surgical experts. You can expect:
Specialised expertise: Our hip surgeons are globally recognised leaders in their fields. They've undertaken specialised training in anterior approach hip replacement techniques and performed more than 400 surgeries. They also lecture at elite institutions and educate other surgeons on best practices in anterior hip joint replacement.
Innovative equipment: We are among the first in the U.K. to perform anterior hip replacement using the assistance of a robot. Our state-of-the-art robotic surgery systems help our surgeons perform hip surgery with unparalleled precision and accuracy. Our advanced techniques mean that some people can even go home the same day.
Team approach: Hip replacement surgeons work closely with experts across multiple specialties to ensure you receive streamlined, comprehensive care. Your treatment plan includes the input of surgeons, radiologists and physiotherapists who meet regularly, in a multidisciplinary team setting, to review each patient's case.
Improved outcomes: Before and after hip replacement, you work with an experienced physiotherapist to improve hip strength, stability and function. We tailor prehabilitation and rehabilitation programs to your needs and health risks to improve outcomes after surgery.
Second opinions: If you have severe hip arthritis and have been told you need a hip replacement, we can give your case a second look. We may be able to offer less invasive treatments, such as hip preservation therapies or anterior hip replacement, that other institutions can't.
How Is Anterior Hip Replacement Different?
The anterior muscle-sparing approach is far less invasive than traditional lateral (from the side) or posterior (from the back) hip replacements. Lateral and posterior hip replacements require a surgeon to cut important muscles to access the hip joint.
This muscle damage increases the risk of hip instability and hip dislocations after surgery. It can also lead to more pain during rehabilitation, reduced hip function and gait problems, such as limping. The anterior approach preserves healthy muscles, leaving them intact.
What Are the Benefits of Anterior Hip Replacement?
Muscle-sparing anterior hip replacement surgery offers several benefits over traditional hip replacement, including:
Fewer risks: The anterior approach causes less bleeding during surgery. It also greatly reduces the risk of hip instability and hip dislocations after surgery.
Improved mobility: People who have anterior hip replacement can stand, sit and walk more easily right after surgery — with less dependence on mobility aids.
Less pain: Since there is no muscle damage, people experience less postoperative pain, need less medication and return to their daily activities sooner.
Less time in the hospital: Most people return home within 24 to 48 hours after an anterior hip replacement. Some go home the same day.
Smaller scar: The small size of the incision and its location in the groin crease mean the wound heals quickly, with less visible scarring.
You want to get moving again, quickly and without pain. We want to help you get there. At Cleveland Clinic London, our skilled team works with you before and after surgery so you can get back to doing what you love.
Orthopaedic Self-Pay Services
Whether you need to know the cost of a private MRI scan, surgical procedure or other service, we can help. Cleveland Clinic London has a broad range of tests and treatments available for self-pay, so you're prepared for whatever turn your health takes. Find out more.
Learn More
Contact us or call +44 20 3423 7500 for more information about anterior hip replacement surgery.