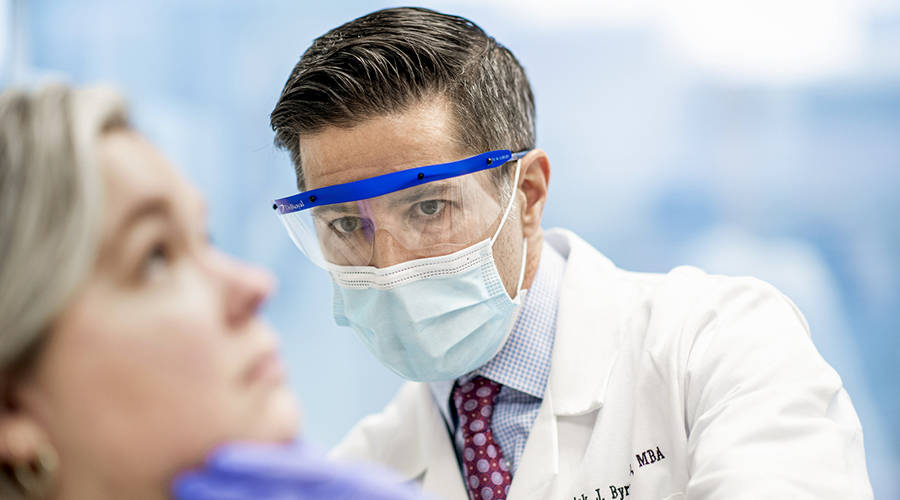 As a leading healthcare organisation, Cleveland Clinic London offers a full range of surgical and non-surgical aesthetic services to help you look and feel your best. We're home to world-class plastic surgeons with decades of experience in enhancing, reshaping and reconstructing the face and body.
Plastic surgery encompasses both cosmetic and reconstructive surgery:
Cosmetic surgery focuses on enhancing your appearance to achieve your aesthetic ideal.
Reconstructive surgery restores form and function after trauma, surgery, cancer or weight loss.
No matter what type of treatment you need, our elite team blends expertise, advanced surgical techniques and personalised care to deliver exceptional outcomes.
Surgical and Non-Surgical Cosmetic Procedures: Why Choose Cleveland Clinic London?
At Cleveland Clinic London, you'll find:
Surgical expertise: Our plastic surgeons are leaders in their field, with training from prestigious hospitals from around the world. They have the skill set to perform complex and multi-phase cosmetic procedures, such as postpartum and post-bariatric body contouring.
Focus on safety: Your surgery takes place in one of the U.K.'s newest, most advanced private hospitals. An experienced surgical team, including your surgeon, nurses and anaesthetists, oversees your care from start to finish. A fully staffed, 24/7 intensive care unit (ICU) and acute admissions unit (AAU) are available in the event of any critical health complication during or after surgery.
Commitment to quality: Our surgeons draw on experience, research and the latest evidence-based surgical techniques to design your care plan. We adhere to the highest quality standards, so you enjoy a better recovery and excellent results.
Personalised care: Our team builds a strong relationship with each patient, taking the time to understand your aesthetic goals and expectations. We discuss the risks and benefits of treatment, so you have the information you need to make an informed, confident decision about your care.
Cosmetic Surgeries We Offer
Our depth of expertise with a broad range of cosmetic procedures means we can tailor a treatment plan to your unique aesthetic concerns.
Body contouring and post-bariatric rejuvenation
Body contouring reshapes and enhances your figure. You may focus on one part of your body or have multiple areas of concern due to aging, pregnancy, childbirth or major weight loss. Sometimes we recommend multiple or combined breast and body procedures to achieve the best possible results.
Our body contouring procedures include:
Excess skin removal.
Scar revision.
Our surgeons also specialise in addressing unwanted side effects of bariatric surgery, so you can fully enjoy the new you. Sometimes bariatric surgery causes muscular weakness in your abdominal wall, which can lead to hernias. Our skilled surgeons address these problems when they perform your cosmetic procedure.
Post-bariatric rejuvenation may include:
Lifting the skin and tissues in your arms, tummy, breasts or buttocks.
Redistributing fat.
Removing excess breast tissue in people assigned male at birth (gynecomastia).
Removing loose skin.
Breast augmentation, lift or reduction
We offer several procedures to enhance the look of your breasts. Our surgeons remove breast implants if you have a ruptured implant or are experiencing breast pain, hardness, deformity or breast implant illness. We also perform breast implant revision surgery if you no longer like the look of your implants due to age, weight loss, weight gain or other body changes.
Our breast procedures include:
Facial cosmetic surgery
Facial cosmetic surgery enhances the natural symmetry and balance of your features. It can also give your face a more youthful appearance and address common age-related concerns such as wrinkles and sagging skin.
Our facial procedures include:
Non-Surgical Cosmetic Treatments We Offer
If you're considering cosmetic surgery but aren't sure you're ready, non-surgical treatments are a less invasive way to enhance your appearance. We offer a variety of in-office treatments, such as injectable fillers and neuromodulators, for common skin concerns such as:
Creases.
Double chin.
Fine lines.
Lost contour and volume.
Scars.
Learn More
Contact us or call +44 (0)20 3423 7500 for more information about cosmetic surgery services.