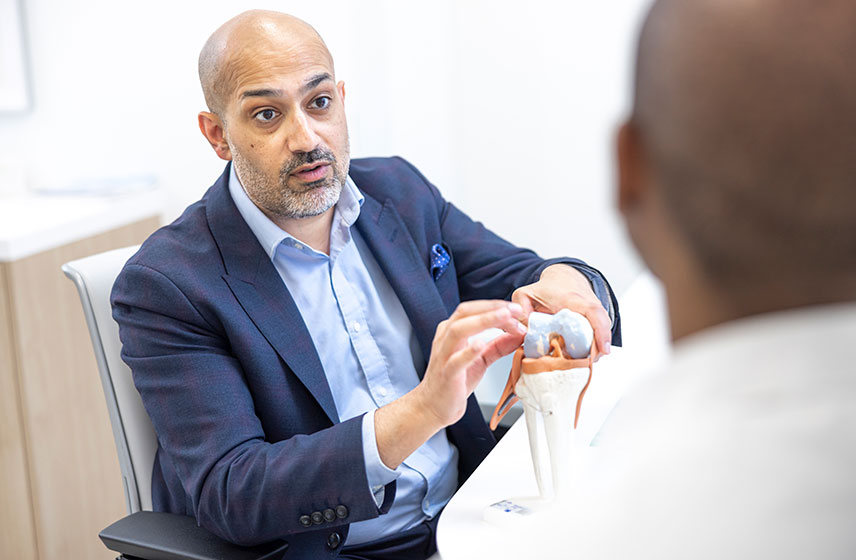 At Cleveland Clinic London, you have access to some of the U.K.'s foremost experts in hip, knee and pelvis care. We are experts in the latest surgical techniques, including robotic joint replacement and complex ligament reconstruction. We also offer joint preservation treatments to help you stay mobile with less pain.
Hip, Knee and Pelvis Surgery: Why Choose Cleveland Clinic London?
At our hip, knee and pelvis surgery programme, you'll find:
Specialty expertise: Our orthopaedic surgeons have advanced training from internationally renowned teaching hospitals. They are actively involved in research and clinical trials. You have access to the latest hip and knee surgeries performed by experts who are leaders in their fields.
Innovative equipment: We use two state-of-the-art robotic systems for joint replacement. This technology helps our surgeons operate with unparalleled precision. The results are a quicker recovery and better outcomes.
Team approach: Specialists from multiple disciplines are involved in your care, so you receive all the tests and treatments you need under one roof. Orthopaedic surgeons, plastic and reconstructive surgeons, musculoskeletal radiologists, rheumatologists, physiotherapists and other experts work together to build your care plan.
Orthopaedic pioneers: Our surgeons were among the first in the world to perform leading procedures, such as cartilage resurfacing implants for knee injuries. They have also helped develop new techniques for robotic joint replacement, meniscal transplantation and other novel treatments.
Hip, Knee and Pelvis Conditions We Treat
Musculoskeletal conditions in the lower body can take many forms. At Cleveland Clinic London, we treat everything from minor injuries to complex degenerative disorders using a personalised approach.
Hip and pelvis conditions we treat include:
Knee conditions we treat include:
Cartilage injuries.
Kneecap injuries.
Multi-ligament injuries.
Our Hip, Knee and Pelvis Treatments
Our orthopaedic specialists evaluate your pain level, lifestyle, activity level and other factors, to determine the best treatments for your needs and goals.
Hip and knee joint preservation
The goals of joint preservation are to:
Increase mobility and function.
Prevent further cartilage loss.
Prevent or delay the need for joint replacement surgery.
Reduce joint pain and stiffness.
Repair or reverse existing joint damage.
Joint preservation may be right for young or middle-aged people who have hip or knee damage but want to prevent or delay joint replacement. It's suited for cartilage injuries, some congenital joint disorders or early-stage arthritis with minimal cartilage loss. Your joint preservation plan may involve a combination of conservative (non-surgical) therapies and surgical procedures.
Non-surgical joint preservation therapies include:
Anti-inflammatory medication.
Orthobiologic injections, such as platelet-rich plasma (PRP) therapy.
Physiotherapy and weight loss through supervised exercise.
Steroid injections.
Unloading braces.
Viscosupplementation, injections of hyaluronic acid to lubricate the joint.
Joint preservation surgeries include:
Arthroscopy: Hip or knee arthroscopy is a minimally invasive (keyhole) surgery. We make several tiny incisions and use a small camera and surgical tools to remove torn or damaged parts from the joint. This procedure preserves bone and causes minimal soft tissue damage, so patients recover faster and with less pain.
Cartilage repair: We use a variety of innovative techniques to repair cartilage around joint surfaces. Some treatments involve growing cells to regenerate the joint surface. Treatments include:

Autologous chondrocyte implantation: We inject your knee with cartilage-producing cells from your body.
Bone marrow stimulation: We make tiny fractures in the bone to stimulate new cartilage growth.
Osteochondral allografts: We transfer donor bone and cartilage to your joint.

Meniscus surgery: We use arthroscopy to repair a torn meniscus. But if the meniscus is badly damaged or worn away, we may recommend another option. You can have a meniscus transplant, where we transplant donor meniscal tissue into your knee. Or we can perform a meniscal implant, where we place a synthetic spacer to act as a cushion between the femur (thighbone) and tibia (shinbone).
Osteotomy: We cut and realign bones in the knees or hips, helping distribute weight more evenly across the joint. People who have bowlegs or knock-knees may need knee osteotomy. People with hip dysplasia may require hip osteotomy, specifically periacetabular osteotomy.
Hip and knee replacement
If joint preservation treatments do not relieve hip or knee pain, it may be time for joint replacement. We typically reserve this treatment for people over age 60 whose symptoms affect their ability to sleep and do their usual activities. In many cases, we can perform hip or knee replacement using minimally invasive robotic techniques. Learn more about robotic surgery.
Our joint replacement surgeries include:
Total knee replacement: During knee arthroplasty or knee resurfacing, we remove damaged cartilage and bone from the knee joint. We replace them with metal implants and a plastic spacer that move like a natural joint.
Partial knee replacement: During unicompartmental replacement, we resurface only part of the knee joint with metal and plastic components. This is a less invasive alternative to total knee replacement for people with damage in only one part of the knee. We also offer kneecap replacement (patellofemoral arthroplasty).
Total hip replacement: During hip arthroplasty, we remove the top part of the thighbone and the damaged cartilage in the hip socket. We replace them with metal implants (stem, ball and socket). A plastic spacer fits between the new ball and socket so the artificial joint glides smoothly.
Hip resurfacing: Hip resurfacing replaces the damaged cartilage lining the hip socket with a metal shell. But unlike total hip replacement, we leave the ball of your thighbone in place and cover it with a metal cap.
Hip revision: Our surgeons specialise in complex hip revisions for people who have had previous hip replacements. We may do revision surgery if the original implants are worn or loose, you sustain a fracture around the implants, or the original artificial ball and socket dislocate.
Orthopaedic Self-Pay Services
Whether you need to know the cost of a private MRI scan, surgical procedure or other service, we can help. Cleveland Clinic London has a broad range of tests and treatments available for self-pay, so you're prepared for whatever turn your health takes. Find out more.
Learn More
Contact us or call +44 20 3423 7500 for more information about hip, knee and pelvis care.