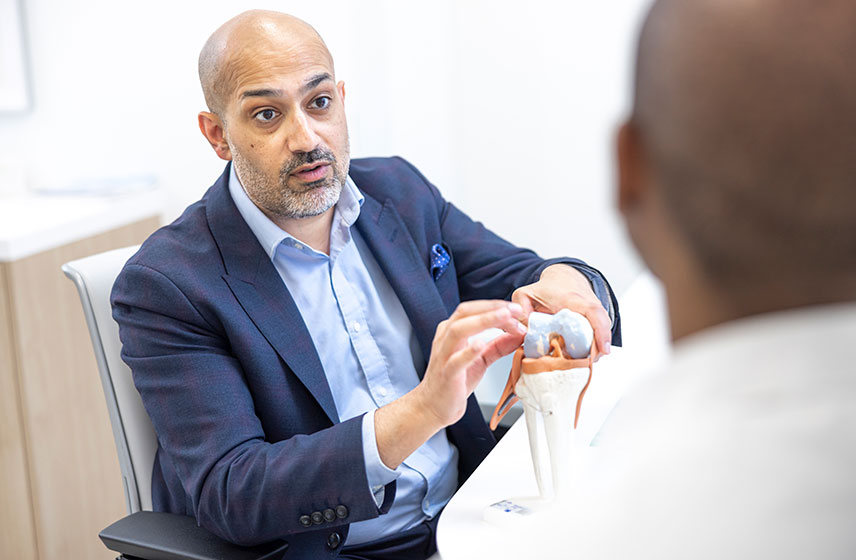 Pain in your hip, knee or pelvis can have a major impact on your quality of life. Whether caused by an injury or condition like arthritis, it can affect everything from limiting your ability to climb stairs, sit comfortably, walk or perform normal daily activities. When hip, knee or pelvis pain interferes with your ability to do the things you want or need to do each day, it's time to seek medical advice. The experts at Cleveland Clinic London are here to help get you back to doing your usual activities pain-free as soon as possible.
Why Choose Us for Hip, Knee or Pelvis Treatment?
From diagnosis and treatment to post-surgery healing and rehabilitation, you can expect the highest-level of care from our hip, knee and pelvis orthopaedic specialists. We offer:
Extensive experience: With experience in treating everything from routine to complex orthopaedic conditions, our highly-qualified consultants and surgeons are leaders in their fields, with most coming from London's top teaching hospitals.
Advanced techniques and state-of-the-art facilities: Our brand-new hospital and outpatient centre have the latest technology and equipment for joint replacement surgeries, which along with innovative techniques and procedures, like robotic-assisted surgery, means you could be back on your feet within a day of your operation.
Customised care: If treatment includes joint replacement surgery, custom-made implants are designed specifically to your unique anatomy. Following surgery, you will receive the most advanced after-care, including a detailed, bespoke care plan, involving expert physiotherapy and rehabilitation – all designed to help you regain your quality of life.
A multidisciplinary team approach: We bring all of the experts you need together under one roof. You have access to orthopaedic consultants, surgeons, rheumatologists, physiotherapists, nurses and more who all work as a team to get you the best possible care.
Hip, Knee and Pelvis Treatment at Cleveland Clinic London
Conditions we treat:
Treatments and care:
We provide a wide range of hip, knee and pelvis diagnostic procedures and treatments, including:
Chondral surgery to repair damage to the articular cartilage – the soft white cartilage that covers the ends of the bones.
Ligament repair and replacement.
Meniscal repair and transplants to repair torn meniscus knee cartilage (the cartilage that provides a cushion between your thighbone and shinbone).
Minimally invasive keyhole/arthroscopic surgery where only a few small incisions are required to diagnose and treat the knee or hip, making recovery quicker and less painful than with an open approach.
Osteotomy surgery to realign the knee joint.
When other treatments haven't worked, total or partial joint replacement surgery may offer the best long-term improvement for hip or knee pain. Types of joint replacement and related surgeries include:
Hip revision surgery is performed to repair an artificial hip joint that has been damaged over time due to an infection or normal wear and tear.
Hip resurfacing is an alternative to joint replacement surgery, often a good option if you are younger.
Kneecap replacement (patellofemoral).
Partial knee replacement (unicondylar).
Learn More
Contact us or call +44 (0)20 3423 7500 for more information about our hip, knee and pelvis services.