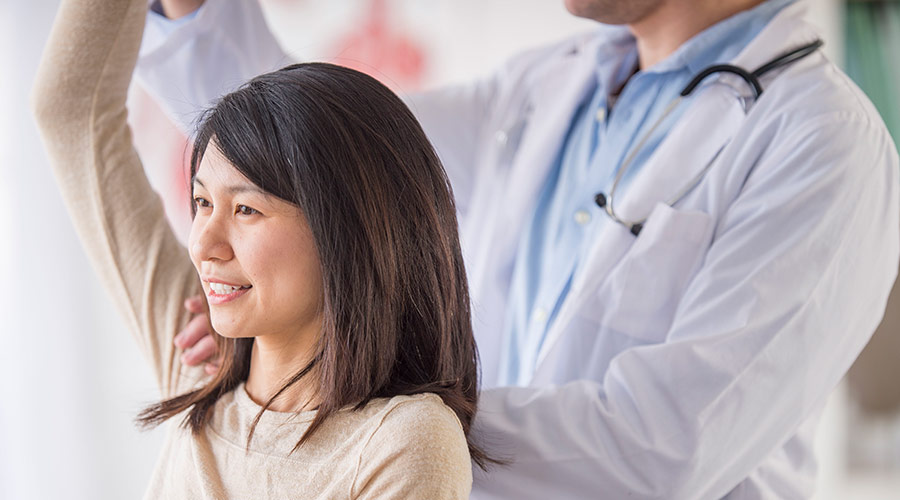 Shoulder and elbow pain is very common – whether due to sports injury, overuse, aging or trauma. Stiffness, weakness or pain in your shoulder can make it difficult to carry out everyday tasks, like reaching for something on a high shelf, driving a car or brushing your hair. It can even impact your ability to get a good night's sleep. If you're dealing with shoulder or elbow pain that won't go away, the experts at Cleveland Clinic London can help.
Why Choose Us for Shoulder or Elbow Treatment?
Finding the right care is important and our team of specialists are here to help with any shoulder or elbow condition you may have. We offer:
Extensive experience: With experience in treating everything from routine to complex orthopaedic conditions, our highly-qualified consultants and surgeons are leaders in their fields, with most coming from London's top teaching hospitals.
Advanced technology and state-of-the-art facilities: Our hospital and outpatient centre are brand-new, equipped with the latest technology and designed for the best possible patient experience.
Customised care: We will carry out a comprehensive review of your condition, provide expert diagnosis, and put in place a treatment and rehabilitation plan tailored specifically for you.
A multidisciplinary team approach: We bring all of the experts you need together under one roof. You have access to orthopaedic consultants, surgeons, rheumatologists, physiotherapists, nurses and more who all work as a team to get you the best possible care.
Shoulder and Elbow Treatment at Cleveland Clinic London
Common conditions we treat:
Arthritis of the shoulder or elbow.
Bicep tendon injuries: micro-tears in the tendons at the front of your upper arm.
Dislocated shoulder: when the ball and socket bones of your shoulder are separated following a fall or blow to the shoulder.
Frozen shoulder: when the tissue around your shoulder joint becomes inflamed and tight, causing pain and stiffness.
Golfer's elbow/medial epicondylitis: damage to the muscles and tendons that control your wrist and fingers.
Rotator cuff injuries: injuries to the muscles and tendons that surround your shoulder joint.
Shoulder bursitis: inflammation of the fluid-filled sacs that cushion your shoulder joint.
Shoulder impingement: when a tendon inside your shoulder rubs against tissue and bone as you lift your arm.
SLAP (superior labrum anterior and posterior) tears: where the cartilage in the inner part of your shoulder is torn, causing pain and movement limitations.
Tennis elbow/lateral epicondylitis: pain in the outside of the elbow, usually caused by overuse of the forearm muscles.
Treatments and surgeries:
Clavicle fracture surgery for a severely broken collarbone.
Minimally invasive keyhole/arthroscopic surgery where only a few small incisions are required, making recovery quicker and less painful than with an open approach.
Latarjet surgery to treat recurrent shoulder dislocations.
Surgical treatment of scapular (shoulder blade) fractures.
Superior capsular reconstruction, which is a surgical technique for treating large rotator cuff tears.
Surgery for shoulder instability (either complex or re-do) to restore stability and prevent further dislocations.
Learn More
Contact us or call +44 (0)20 3423 7500 for more information about our shoulder and elbow services.