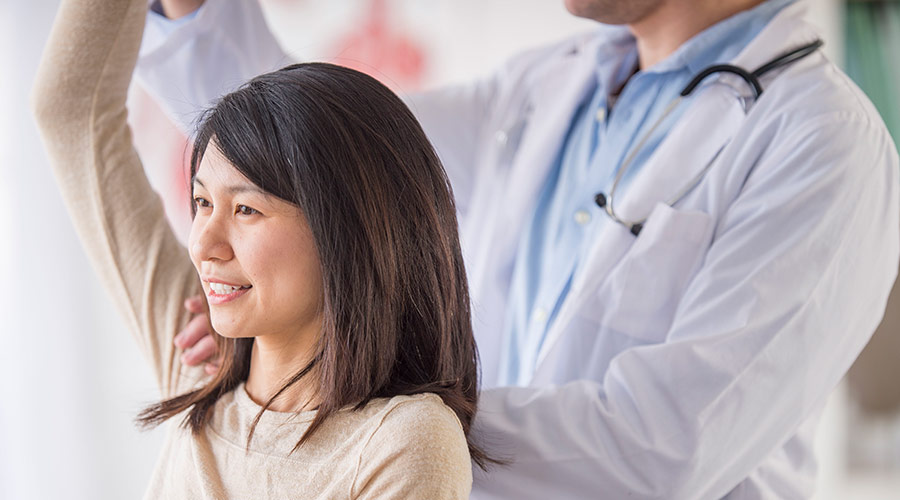 At Cleveland Clinic London, you have access to an esteemed team of experts specialising in shoulder and elbow care. Our surgeons treat a broad range of conditions affecting the upper arm, including sports injuries, fractures and arthritis. They combine innovative surgical techniques with personalised care to deliver excellent outcomes.
Shoulder & Elbow Surgery: Why Choose Cleveland Clinic London?
At our world-class shoulder and elbow surgery programme, you'll find:
Specialty expertise: Our team includes orthopaedic surgeons who focus solely on shoulder and elbow care. They've completed extensive fellowship training at prestigious institutions and are actively involved in research and clinical trials. You receive care from an elite team at the forefront of the latest surgical techniques.
Minimally invasive treatments: Whenever possible, we treat your shoulder condition using minimally invasive techniques such as arthroscopy or robotic surgery. These procedures are safer and carry fewer risks than major open surgeries. You recover faster and with less pain.
Team approach: Shoulder and elbow surgeons meet regularly with experts in other disciplines such as physical rehabilitation, peripheral nerve injuries, reconstructive surgery and musculoskeletal imaging. They discuss your case and evaluate your treatment options, so you receive an individualised, comprehensive care plan.
Shoulder and Elbow Conditions We Treat
Our experts care for a wide range of common and complex conditions affecting the shoulder and elbow. We treat adults of all ages and activity levels, from active seniors to professional athletes. We focus on reducing pain, enhancing mobility and improving your quality of life.
Shoulder conditions we treat include:
Elbow conditions we treat include:
Elbow tendinitis.
Ulnar collateral ligament (UCL) injuries.
Our Shoulder and Elbow Treatments
Our experts take the time to assess how shoulder or elbow pain is affecting your quality of life. We discuss your mobility goals, which may include returning to a sport at peak performance or completing daily tasks with less discomfort. We consider these factors before designing your treatment plan, so you have a manageable recovery and the best possible outcome.
Non-surgical shoulder and elbow treatments
Most forms of shoulder or elbow pain don't require surgery. Our experts may recommend conservative therapies such as:
Activity modification.
Anti-inflammatory medication.
Physiotherapy.
Platelet-rich plasma (PRP) injections, where we inject concentrated platelets from your blood to speed the healing process.
Steroid injections.
Shoulder and elbow surgeries
Our featured surgeries include:
Latarjet surgery: Latarjet surgery treats recurrent shoulder dislocations and chronic shoulder instability. Surgeons transfer a bone graft from your shoulder blade to your shoulder joint socket to stabilise the joint.
Rotator cuff surgery: Surgeons use shoulder arthroscopy to repair torn muscles and tendons in the shoulder. We also offer superior capsular reconstruction, a complex surgical technique for treating large rotator cuff tears.
Shoulder and elbow arthroscopy: Arthroscopy is a minimally invasive (keyhole) surgery. We make several tiny incisions and use a small camera and surgical tools to remove torn or damaged parts from the joint without damaging nearby structures. We may perform arthroscopy to repair damaged tendons or ligaments.
Shoulder and elbow joint replacement: We use an arthroscopic or robotic approach to implant a joint prosthesis. Surgeons carefully map your shoulder anatomy and position your new joint for optimal comfort and movement. We may recommend joint replacement for severe arthritis pain or serious injuries.
Tommy John surgery: Also called ulnar collateral ligament (UCL) reconstruction, Tommy John surgery repairs a torn elbow ligament. Surgeons transfer a tendon from elsewhere in your body to perform the repair.
Orthopaedic Self-Pay Services
Whether you need to know the cost of a private MRI scan, surgical procedure or other service, we can help. Cleveland Clinic London has a broad range of tests and treatments available for self-pay, so you're prepared for whatever turn your health takes. Find out more.
Learn More
Contact us or call +44 20 3423 7500 for more information about shoulder and elbow care.