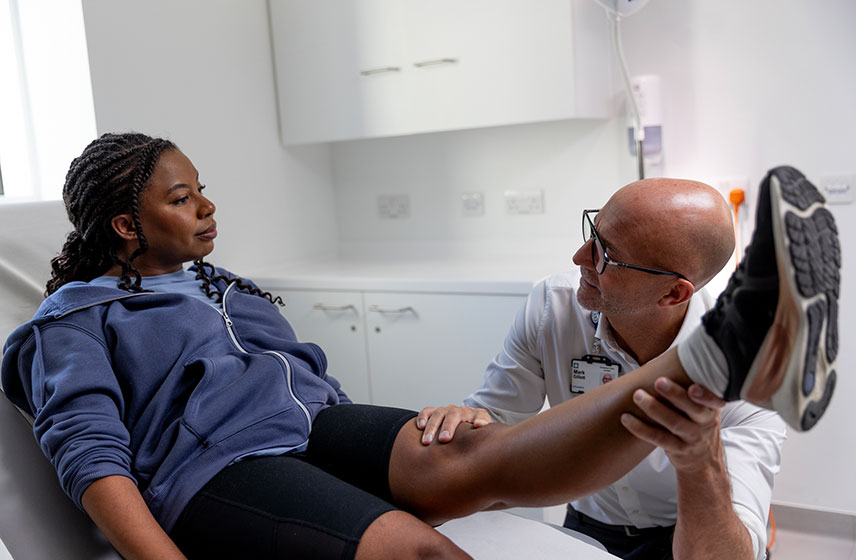 Sports medicine at Cleveland Clinic London uses a holistic care approach for people who love to be active. We care for people of all ages and across the spectrum of activity, including elite and recreational athletes. Whether you want to stay in top shape or you have a medical condition that requires specialised care, you can find the personalised attention you need at Cleveland Clinic London.
Our goal is to keep you doing what you love, whether it's a sport, dance or keeping up with your grandchildren. We treat you, not your condition, so you can live your best life.
Sports Medicine: Why Choose Cleveland Clinic London?
We specialise in the non-surgical management of orthopaedic conditions. We help you recover from sports injuries, musculoskeletal and spinal pain, and joint and tendon pain. Our skilled experts evaluate your condition and design the best solution for you.
We can help you avoid unnecessary surgery. And when surgery is your best option, we get you to the right surgeon as soon as possible. Our highly trained specialists discuss your treatment options and determine which procedures will help you feel better the fastest.
At Cleveland Clinic London, you'll find:
Extensive experience: Our world-class medical specialists have experience working across football, rugby, cricket, ballet and performance arts and Olympic sports. They're leaders in their fields, with many coming from leading professional sports organisations and London's top teaching hospitals.
Collaborative care: We bring all of the experts you need together under one roof. Our sports medicine team discusses complex cases with experts from other medical specialties to create your treatment plan.
Personal relationships: We talk to you regularly to provide clear information about your healthcare journey. Our consultants are available to promptly address your concerns.
Same-day appointments and virtual visits: We offer same-day appointments, when possible, so you don't need to wait long to be seen. We also have virtual appointment options.
Conditions We Evaluate and Treat
We treat people who've been affected by:
Exercise-induced musculoskeletal pain.
Joint pain, including pain in the feet, hands, hips, knees, shoulders or other joints.
Musculoskeletal pain, such as pain that impacts your bones, joints, ligaments, muscles or tendons.
Spinal pain, including low back pain, mid-back pain and neck pain.
Sports injuries, including ligament injuries and muscle injuries and tears.
Tendinitis (tendinopathy), including Achilles tendinitis, elbow tendinitis (lateral epicondylitis), hip tendinitis, knee (patellar) tendinitis, shoulder tendinitis and thumb (de Quervain's) tendinitis.
Sports Medicine Services at Cleveland Clinic London
Our sports medicine services include:
Diagnostic musculoskeletal ultrasound imaging.
Health assessments for exercise, including personalised exercise plans.
Exercise as a therapeutic tool for chronic pain and to manage chronic diseases.
Injections to joints and ultrasound-guided injections.
Medication review.
Shockwave therapy.
Diagnostic musculoskeletal ultrasound imaging
At Cleveland Clinic London, we offer musculoskeletal ultrasound to help diagnose tendinitis, joint issues, muscle tears and other musculoskeletal injuries. This procedure lets your consultant see your muscles, tendons, ligaments and joints in high-resolution.
During the procedure, your consultant moves a hand-held device called a transducer over your skin. The transducer emits sound waves that become pictures of the structures inside your body. Your consultant may ask you to move during the procedure to see the impact on your areas of pain.
Sports medicine health assessment
During a sports medicine health assessment, our specialists talk to you about your fitness goals and give you personalised recommendations for achieving them.
Exercise as a therapeutic tool for chronic pain and to manage chronic disease
Our consultants often prescribe exercise to help reduce musculoskeletal pain. They can also suggest exercises you can do to manage chronic diseases such as diabetes and high blood pressure (hypertension).
Injections to joints
Cleveland Clinic London sports medicine specialists can use injections to reduce inflammation and pain in your joints. The injections that we offer include:
Corticosteroid injections: We often use this injection to lessen pain in the knees, hips and shoulders.
Hyaluronic acid (HA) injections: HA injections, also known as gel injections, are similar to your natural joint fluid.
Platelet-rich plasma (PRP) injections: These injections use your blood and platelets to encourage healing and reduce inflammation.
Our consultants are trained in ultrasound-guided injections, which enable them to see images of the areas to be injected and lead to greater accuracy.
Medication review
A sports medicine consultant reviews the medications you're currently taking. Working with your other doctors, we will ensure you are on optimal therapy. We can adjust medications and dosages if necessary.
Orthopaedic Self-Pay Services
Whether you need to know the cost of a private MRI scan, surgical procedure or other service, we can help. Cleveland Clinic London has a broad range of tests and treatments available for self-pay, so you're prepared for whatever turn your health takes. Find out more.
Learn More
Contact us or call +44 20 3423 7500 to make an appointment or learn more about our sports medicine services.