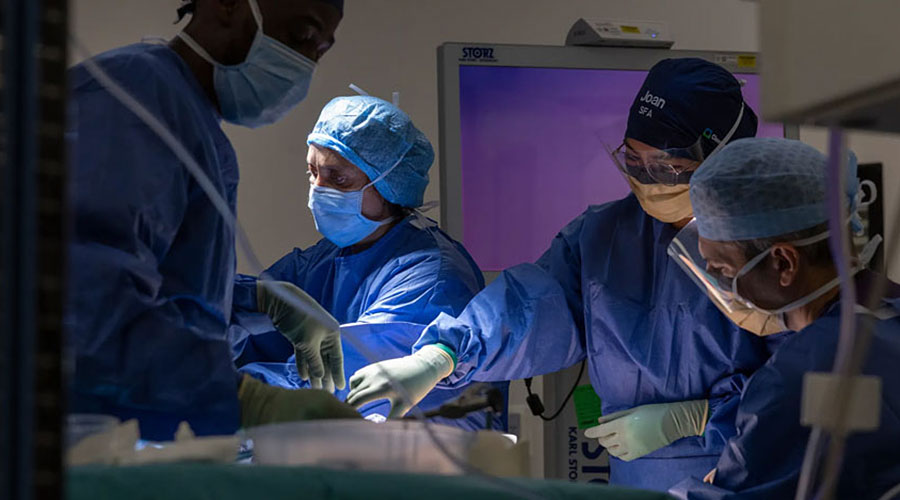 Significant weight loss can be a life-changing experience. Embark on the journey safely and effectively with the expert team at Cleveland Clinic London.
Our physicians, surgeons and registered dietitians offer a range of bariatric surgery options and non-surgical weight loss treatments. You receive the personalised attention you need to meet your medical and aesthetic goals.
Weight Loss Surgery: Why Choose Cleveland Clinic London?
Highlights of our comprehensive weight loss programme include:
Expert consultants: We're home to some of the leading bariatric surgeons in the U.K. They have extensive training in key specialty areas, including laparoscopic (keyhole) surgery, obesity and metabolic diseases and upper gastrointestinal surgery. This experience makes them uniquely qualified to treat people with chronic or complex medical conditions.
Innovative techniques: We perform our weight loss procedures using laparoscopic surgical techniques. This minimally invasive approach offers several benefits, including a shorter hospital stay, less pain, lower risk of complications and a quicker return to your activities.
Focus on safety: Your safety is our top priority. We perform thorough preoperative assessments to ensure you're healthy enough, physically and mentally, for weight loss surgery. You and your surgeon work with a bariatric psychologist and other consultants to assess your risks and manage chronic health conditions, such as diabetes or high blood pressure, before treatment.
Team approach: Multiple providers meet to discuss your case, including bariatric surgeons, anaesthetists, registered dietitians, bariatric nurses and other consultants. This collaboration means you receive a treatment plan tailored to your needs, built by a team of experts.
Care coordination: A dedicated nurse specialist walks you through every phase of your treatment. They help you prepare for surgery and make a plan for a safe recovery at home. This specialist answers your questions, liaises with your surgeon and makes your weight loss journey as streamlined and stress-free as possible.
Our Weight Loss Services
Everyone has different needs when it comes to weight loss. At Cleveland Clinic London, our wide range of treatment options means we can find a solution that works for you. We focus on helping you set achievable goals for long-term health and wellness.
Non-surgical weight management and nutrition
Some people aren't candidates for weight loss surgery or want to lose weight without surgery. We offer a comprehensive, medically supervised weight management and nutrition programme. A registered dietitian helps you focus on making healthy lifestyle adjustments, including:
Diet: Eat mindfully, focusing on balanced nutrition and portion control.
Education: Understand the science behind metabolism, genetics and weight loss.
Exercise: Stay active in ways that fit your schedule and lifestyle.
Mental health: Change your emotional and psychological perspective on food.
Weight loss injections
We may recommend enhancing your non-surgical weight management programme with weight loss injections. Cleveland Clinic London offers a novel prescription medicine that helps control your appetite and increase feelings of fullness. This medication helps you lose weight when combined with diet and exercise.
Here's what you can expect:
First dose: Your consultant administers your first dose and shows you how to give yourself the medication.
Weekly injection: You inject yourself once a week, usually in your belly, thigh or upper arm.
Monitoring: Your dedicated dietician and your consultant monitor your progress and gradually increases the dosage of your injections over six months or longer.
Bariatric surgery
You may be a candidate for weight loss surgery if your body mass index (BMI) is more than:
40kg/m2.
35kg/m2, and you have high blood pressure, high cholesterol, arthritis or breathing problems related to obesity.
30kg/m2, and you have poorly controlled Type 2 diabetes.
We perform several types of bariatric surgeries using minimally invasive keyhole techniques. Your weight loss surgeon evaluates your weight and overall health to determine the best procedure for your needs.
Sleeve gastrectomy
During sleeve gastrectomy, we remove between two-thirds and three-quarters of your stomach. This procedure reduces your stomach capacity from the size of a melon to the size of a banana.
Your appetite is greatly reduced, and you feel fuller sooner. People can lose up to 70% of their excess body weight. We may recommend sleeve gastrectomy for younger people with mild to moderate obesity (BMI of 30 to 40kg/m2).
Gastric bypass surgery (Roux-en-Y gastric bypass)
This procedure creates a pouch the size of an egg in the upper part of your stomach. We connect the pouch to a section of your small bowel, which causes food to bypass most of the stomach and the upper part of the digestive tract.
You have a much smaller stomach, so you feel fuller faster, have a decreased appetite and eat a smaller amount. People can lose up to 80% of their excess body weight. We may recommend gastric bypass for people with Type 2 diabetes, acid reflux or a BMI of 40 to 55kg/m2.
Mini-gastric bypass surgery (one-anastomosis gastric bypass)
The mini-gastric bypass is a shorter procedure than traditional gastric bypass. It also involves less intestinal rerouting, which is why it is termed the mini-gastric bypass. However, the mini-bypass is actually a more powerful weight loss surgery than the traditional gastric bypass. You may lose as much or even more weight with the mini approach. But this technique may increase your risk of gastritis (causing abdominal pain), oesophageal reflux (causing heartburn) and increased bowel frequency.
The mini-gastric bypass is suitable for people with a high BMI or those who would like maximum weight loss. It is not recommended for people with pre-existing acid reflux, as it may make this symptom worse.
Gastric band surgery
Gastric band surgery is a quick, low-risk procedure. We place an adjustable ring around the top of your stomach to create a pouch that's about the size of a mouthful of food. With a gastric band, you need to eat slowly and in small portions since the food takes time to move from the pouch to your stomach.
The procedure is reversible, and you may lose up to 50% of your excess body weight. Sometimes, we recommend gastric band surgery and weight loss injections together.
Gastric balloon
The gastric balloon procedure is non-permanent and doesn't require anaesthesia or endoscopy. You swallow a small capsule under the guidance of our team. After you swallow the balloon, it inflates in your stomach. We check its placement using a quick X-ray. The entire procedure takes about 15 minutes. After about 16 weeks, the balloon deflates naturally and passes through your digestive system.
During the weeks that the balloon is in your system, you adjust to eating smaller portions and healthier foods. We work with you to focus on your relationship to food and help you achieve your weight-loss goals. The gastric balloon can kick-start your weight loss and help you on a healthier path for life.
Revisional bariatric surgery
Our weight loss surgeons specialise in revisional procedures for people who have had previous bariatric surgery. You may seek revisional bariatric surgery if you are still experiencing weight gain after surgery or dealing with side effects such as acid reflux. No matter how complex your condition, we can help.
What to expect after weight loss surgery
Depending on your procedure, weight loss surgery can take one to two hours. After your procedure:
You stay overnight in the hospital.
We carefully monitor your condition as you come out of anaesthesia.
You won't have a catheter or nasal drain.
You'll be able to walk a few hours after your procedure.
You can drink liquids (water, soup, milk, tea) after about six hours.
Once you return home:
Plan to take seven to 10 days off work.
Start gentle exercise after about a week but talk to your surgeon about activity restrictions.
Eat and drink liquids for a week. Transition to pureed food the next week and mashed food the next.
Your dietitian stays in close contact with you to provide dietary recommendations and monitor your progress.
Digestive Disease & Surgery Self-Pay Services
Whether you need a private colonoscopy, care for an existing condition like IBS or sleep apnoea, or a surgical procedure for a hernia, weight loss or something more complex, we provide clear pricing and fast access to leading consultants so you can get back to full health as soon as possible. Find out more.
Learn More
Contact us or call +44 (0)20 3423 7500 for more information about bariatric surgery and weight loss.