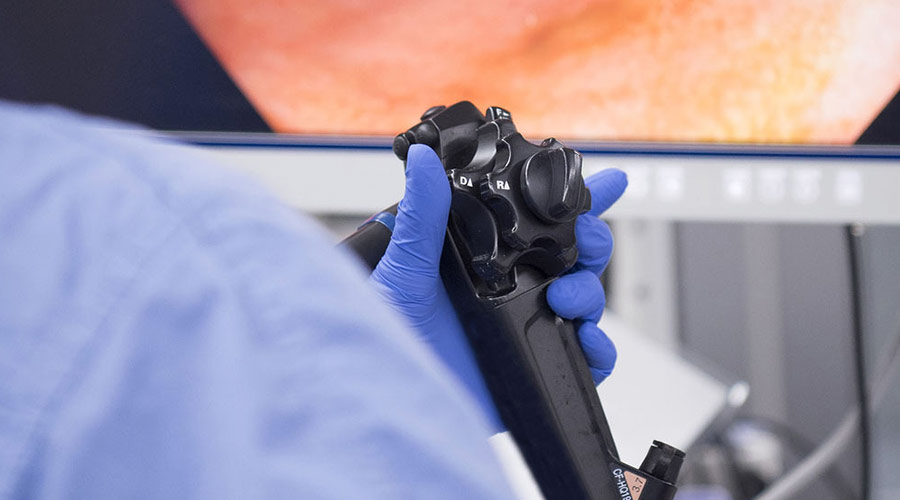 Endoscopy is a procedure used to help doctors thoroughly explore the internal parts of your body, such as your oesophagus, stomach, large bowel (colon) and rectum. It helps them to investigate any symptoms you have that might be related to these areas of your body.
An endoscope is used in these procedures – a long, thin, flexible tube with a light and a camera so that your doctor can look at the images on a screen. Many endoscopic procedures can be done on an outpatient basis – where you don't need to stay overnight in hospital. Light sedation will help to make you more comfortable during the procedure.
Some procedures need to be done in an operating room and you may need anaesthesia before the procedure. For these procedures, you may have to stay in hospital overnight.
Why Choose Cleveland Clinic London?
Our specially trained gastroenterologists and general surgeons perform a whole range of endoscopic procedures. When having an endoscopy at Cleveland Clinic London you can expect:
Advanced technology and state-of-the-art facilities: Our hospital and outpatient centre are brand-new, equipped with the latest technology and designed for the best possible patient experience.
Rapid results: An endoscopy may cause worry and anxiety but you can rest assured that our medical team will ensure you are comfortable during the procedure and will provide you with information on what they find during the procedure as quickly as possible afterwards.
Extensive experience: With experience in diagnosing and treating a multitude of conditions using endoscopy, our highly-qualified consultants are leaders in their fields, with most coming from London's top teaching hospitals.
A multidisciplinary team approach: Once you've had your endoscopy, we will bring all of the experts you need together to work as a team to get you the best possible care, no matter what condition you have.
Endoscopy at Cleveland Clinic London
Some of the conditions that endoscopy is used in are:
Endoscopy Treatment at Cleveland Clinic London
We offer the most advanced endoscopy techniques and procedures available, carried out by experienced gastroenterologists and surgeons. The procedures include:
Colonoscopy, a procedure to examine the inside of your bowel and evaluate any gastrointestinal symptoms.
Endoscopic retrograde cholangiopancreatography (ERCP), a procedure that uses an endoscope and X-rays to diagnose and treat problems that affect the liver, pancreas, gallbladder and bile ducts.
Endoscopic ultrasound (EUS), which combines endoscopy and ultrasound to create images of the digestive tract.
Enteral and colorectal stenting: the insertion of a stent (a hollow tube), via endoscopy, in your stomach or small bowel to create space where there is a blockage.
Upper gastrointestinal endoscopy, a procedure to examine the inside of the stomach.
Learn More
Contact us or call +44 (0)20 3423 7500 for more information about our endoscopy services.