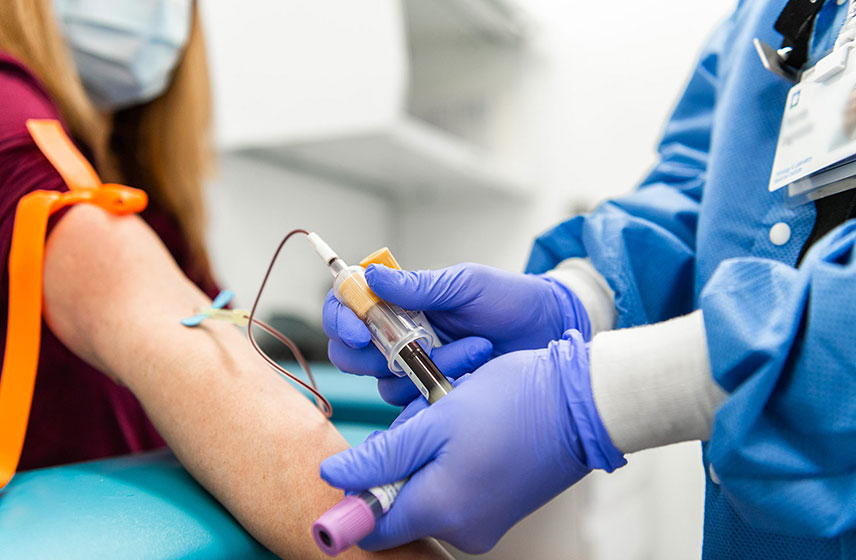 Blood disorders and cancers require highly specialised care, especially when you need surgery or any other medical procedure. At Cleveland Clinic London, we have a select team of skilled haematologists offering outpatient clinics and inpatient care. They're dedicated to assessing, diagnosing and treating even the most complex blood diseases.
Haematology Care: Why Choose Cleveland Clinic London?
Highlights of our haematology services include:
Expert team: We have an elite group of haematology consultants who are leaders in their fields. They stay up to date on research, clinical trials and innovations in key areas such as transfusions, anaemia and haemophilia. This expertise means you receive the latest evidence-based treatments for any blood disorder.
24/7 availability: Whether you need surgery at our hospital or you receive care through our Acute Admissions Unit (AAU) or intensive care unit (ICU), we always have the right consultants on hand. A haematologist is available 24/7 to address critical health situations, including transfusions, haemorrhages and blood clotting problems.
Collaborative approach: At Cleveland Clinic London, our multispecialty consultants work as a team to ensure you receive comprehensive, efficient care. Haematologists collaborate with oncologists, nephrologists, surgeons and intensivists to provide seamlessly coordinated assessments, diagnoses and treatments.
Haematology Services We Offer
Our blood disorder specialists offer:
Anaemia: If you are anaemic then we shall investigate the cause of anaemia and treat you appropriately. Treatment may include iron infusions or blood transfusions.
Preoperative assessments: Haematologists perform thorough testing and evaluations before surgery to identify health risks. We assess your history of bleeding or clots and review your current medications such as anticoagulants (blood thinners). We work with your surgical team to plan every step of your procedure, minimising potential complications.
Postoperative care: After surgery, we monitor your health closely to reduce your risk of excessive bleeding, blood clots, postoperative anaemia and other complications. A haematologist is always available to address critical situations.
Haematology: Weekly day surgery and day-case clinics will be offered at Cleveland Clinic London's main hospital location for infusions and treatments of anaemia, thrombosis and other blood disorders.
Blood Disorders We Evaluate and Treat
We assess, diagnose and develop treatment plans for a variety of blood and clotting disorders, including anaemias. When we diagnose conditions such as blood and bone marrow cancers, we will refer you to the appropriate healthcare provider for comprehensive treatment. Our haematology team will work with your specialists to ensure a seamless care experience.
Learn More
Contact us or call +44 20 3423 7500 for more information about our haematology services.