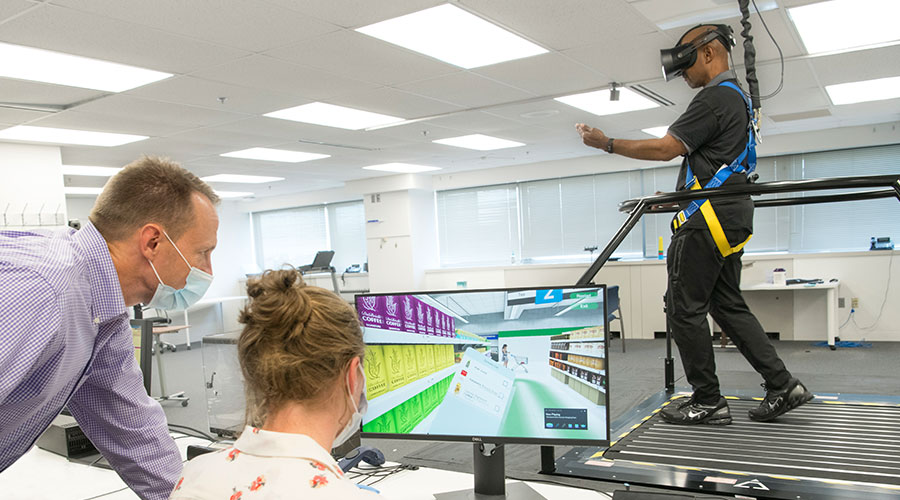 Neurological conditions are those that impact the nervous system, which encompasses your brain, spinal cord, nerves and muscles. Conditions include headache, migraine, stroke, dementia, Parkinson's disease, epilepsy, multiple sclerosis, traumatic brain injury and dizziness, among many others.
A neurological disease, illness or injury can make it difficult to function properly and have a major impact on your ability to live your life. It is important that you receive a quick diagnosis of the underlying problem, and treatment that can restore or improve your quality of life.
The nervous system is very complex, so it is vital to see an experienced neurologist to get the right treatment for you. Our neurologists are experts in diagnosing and treating the full range of conditions – from headaches and back pain, to traumatic brain injuries and seizures.
Why Choose Cleveland Clinic London?
Extensive experience: Our neurology services are wide-ranging and specialist-led. Our team of expert consultants are leaders in their fields, with most coming from London's top teaching hospitals.
Team-based approach: Our world-leading neurologists are part of a multidisciplinary team working closely with neurosurgeons, physiotherapists, speech and language therapists, neuropsychologists and rehabilitation to make sure you get the best care throughout your journey.
Specialised services: We offer a range of highly specialised services across the whole range of neurological conditions, including a daily mini-stroke (transient ischaemic attack, TIA) clinic. We also have dedicated clinics for Parkinson's disease, headache, migraine, epilepsy, sleep problems, concussion and cognitive disorders, all led by experts in these fields.
State-of-the-art robotic rehabilitation equipment: Our team uses the latest specialist rehabilitation techniques, including using robotic technology to help improve and speed up recovery following brain or spinal injury.
Neurology at Cleveland Clinic London
Conditions we treat include:
Cognitive impairment, a decline in mental ability and memory.
Complex and severe headache disorders.
Disorders impacting your nerves and muscles (neuromuscular disorders), including peripheral neuropathy, where one or more of your nerves is damaged or isn't functioning properly.
Epilepsy and seizures.
Functional neurological disorders – problems with how the brain and body send and receive signals.
Movement disorders including Parkinson's disease and complex forms of Parkinsonism, which cause symptoms such as tremors, muscle stiffness and slow movement.
Neuroinflammation – inflammation in the brain or spinal cord.
Neuropsychiatric disorders – behavioural problems or psychiatric symptoms associated with brain abnormalities.
Neurovascular disorders, which impact the blood supply to the brain or spinal cord, including stroke and TIA (transient ischaemic attack, or mini-stroke).
Vestibular disorders, including dizziness and balance problems.
Diagnosis at Cleveland Clinic London:
We use advanced technologies to diagnose you quickly and accurately at our outpatient assessment clinic. We offer state-of-the-art imaging and diagnostics, including:
Neurophysiology services with electroencephalograms (EEG), tests during which the electrical signals of the brain are recorded, and electromyograms (EMG), which measure the electrical activity of the nerves and muscles.
MR angiograms.
MRI.
Blood tests.
Genetic testing.
Sleep studies.
Treatments and services:
Our specialist treatment programmes include:
A vestibular service for people with symptoms such as dizziness or problems balancing, where our neurological consultants will work closely with our specialist vestibular physiotherapy service.
Headache centre: full headache service, including inpatient treatments where needed, Botox injections, nerve blocks and new generation anti-CGRP therapies. Nerve blocks and Botox injections can be carried out on an outpatient basis if needed, meaning you won't need to stay overnight in hospital.
Neuropsychology services to assess and treat cognitive, emotional and behavioural problems following brain damage or disease.
Inpatient and outpatient based rehabilitation programmes to maximise recovery after brain or spine injury.
Mini-stroke, or transient ischaemic attack (TIA) clinic, where blood supply to the brain, heart structure and rhythm, cholesterol levels and blood pressure are assessed so that our expert clinicians can give you advice about what treatment and lifestyle changes may help prevent you having a stroke.
A cognitive disorders service to provide comprehensive assessment and treatment options for people with memory problems or those people with symptoms suggestive of dementia.
Learn More
Contact us or call +44 (0)20 3423 7500 for more information about our neurology services.