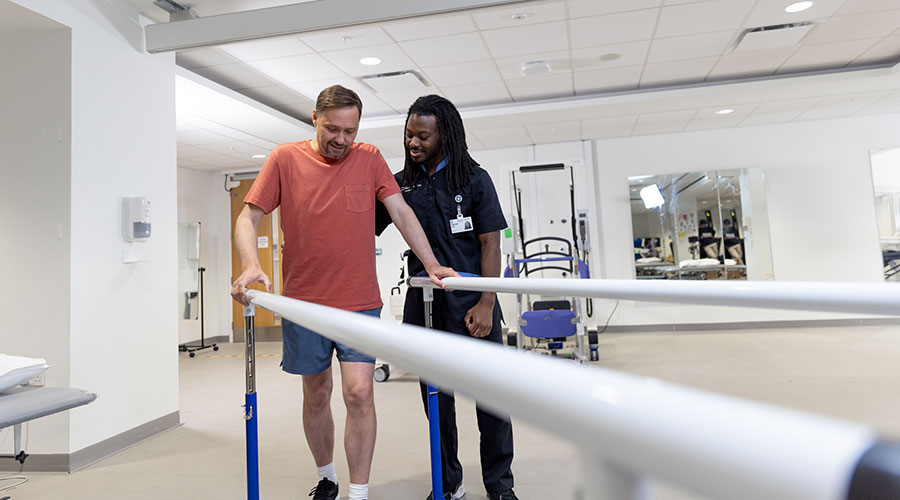 Neurorehabilitation is a vital part of your treatment and recovery from neurological disease, illness or injury. It helps restore your ability to function, reduce your symptoms and improve your quality of life.
Our advanced neurorehabilitation unit is run by dedicated neurology and rehabilitation specialists. We work with you to help you achieve your goals and maximise your recovery.
Neurorehabilitation: Why Choose Cleveland Clinic London?
At our facility, a team of medical experts, highly skilled therapists, neuropsychologists and nurses provide all the support you need throughout your rehabilitation journey with us.
Highlights of our care include:
State-of-the-art facilities: Our 40-bed neurorehabilitation unit has two dedicated therapy gyms and is designed for the best possible patient experience. Our team uses the latest specialist rehabilitation techniques, including cutting-edge robotic equipment and advanced exoskeletons, to help support your recovery.
Dedicated, specialist service: Our multidisciplinary team includes rehabilitation and neurology specialists, physiotherapists, occupational therapists, speech and language therapists, therapy assistants, rehabilitation nurses, neuropsychiatrists and neuropsychologists. We work together, ensuring a goal-orientated, coordinated treatment plan for you.
Customised care: We carry out a comprehensive review of your condition and develop a rehabilitation plan tailored specifically for you.
Dedicated case manager: A dedicated case manager works with your care team to coordinate care. They oversee your treatment journey, from your arrival through your continuing rehabilitation after you return home.
Research: We are highly active in neurorehabilitation research and rapidly translate the latest research into practice for your benefit.
Neurorehabilitation at Cleveland Clinic London: Conditions We Treat
Our neurorehabilitation unit treats patients with a range of neurological conditions, including those with the most complex needs. Conditions we treat include:
Acquired brain injury, including stroke and traumatic brain injury.
Prolonged disorders of consciousness, a state where consciousness has been affected by damage to the brain, causing coma, including minimally conscious state and vegetative state.
Spasticity management programmes and management of complex neurological disability.
Cognitive and behavioural disorders due to brain injury.
Chronic neurological disorders causing disability, such as multiple sclerosis, Parkinson's disease and complex forms of Parkinsonism.
Musculoskeletal disorders, including disorders following joint replacement surgery or multiple traumatic injuries after a traffic accident.
Guillain-Barre syndrome and other forms of severe neurological weakness.
Neurorehabilitation Services at Cleveland Clinic London
Our services include intensive inpatient and outpatient rehabilitation programmes.
Inpatient rehabilitation
Receive intensive inpatient rehabilitation in our 40-bed, modern neurorehabilitation unit. We designed this unit with your comfort and recovery in mind. Highlights of our inpatient rehabilitation programme include:
Specialty care: You receive care from top rehabilitation consultants and therapists who create a recovery plan customised for your needs. They oversee your progress throughout your stay.
Integrated treatment: Our rehabilitation team works together to ensure you receive therapies and treatments designed to encourage healing and restore function.
State-of-the-art facilities: Advanced robotics, exoskeletons and other state-of-the-art equipment help you maximise recovery and achieve the best possible outcomes.
Specialist medical, diagnostic and surgical support: Our hospital has specialists in all medical and surgical specialties to help support your recovery. We use advanced diagnostic equipment, including scanners, neurophysiology testing and angiography/ endoscopy suites to provide you with the best care.
Outpatient rehabilitation
When you are ready to go home, our team is here to help. We assist you with the transition to home and continue your outpatient therapy. We also provide intensive multidisciplinary outpatient-based rehabilitation programmes within our rehabilitation unit. There are several programmes available, including:
Spasticity management programmes, including EMG-guided Botox injections and baclofen pumps.
Disability management programmes to optimise your level of function.
Other services we provide
Services you may need include:
Baclofen pumps, used to administer a muscle relaxant medicine directly into the spinal fluid to decrease spasticity related to multiple sclerosis, spinal cord injuries or other neurological diseases.
Tracheostomy support for patients who need a tracheostomy to help them breathe or who need artificial feeding support.
Botox injections for spasticity, including EMG and ultrasound-guided injections.
Gastrostomy tubes and specialist dietetic input, used when neurological injury has affected swallowing; supported by advanced swallow assessments using endoscopy and video-fluoroscopy testing.
Learn More
If you're a patient and need neurorehabilitation services, visit our Contact Centre or call your GP. If you have a life-threatening condition, such as a heart attack or stroke, go to the nearest accident and emergency department or call 999.
Contact us or call +44 (0)20 3423 7500 for more information about our neurology services.
Refer a Patient
GPs and consultants can refer patients quickly and easily to our neurology clinic. Call +44 (0)20 3423 7500 to get started.