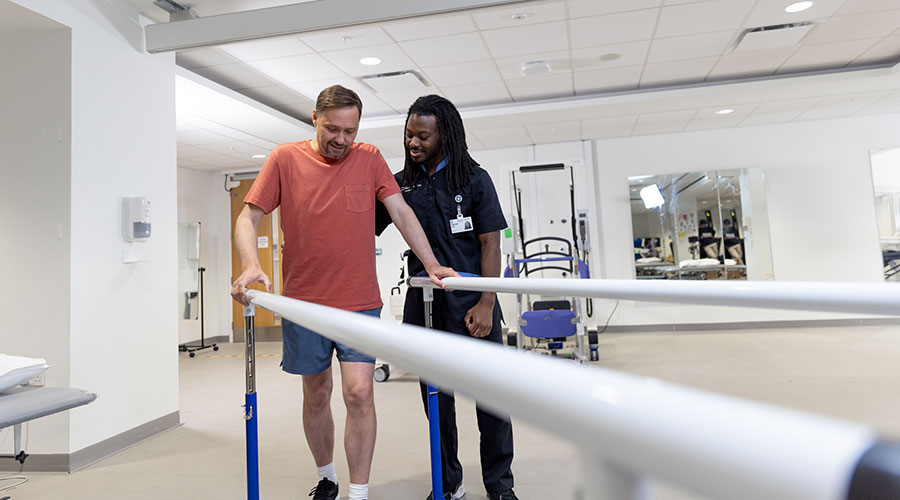 If you have, or are recovering from, a neurological disease, illness or injury, neurorehabilitation can help to increase your ability to function normally, reduce your symptoms and improve your quality of life. It is a vital part of your treatment.
Our state-of-the-art, 40-bed neurorehabilitation unit is run by dedicated neurology and rehabilitation specialists who will work with you to ensure you achieve your personal goals, and to maximise your recovery.
We have two therapy gyms, and the latest robotic equipment and devices such as advanced exoskeletons to help with walking. Our highly skilled therapists and nurses will ensure you have all of the support you need throughout your rehabilitation journey with us.
Why Choose Cleveland Clinic London for Neurorehabilitation?
State-of-the-art facilities and advanced robotic rehabilitation equipment: Our 40-bed neurorehabilitation unit is brand new, has two dedicated gyms and is designed for the best possible patient experience. Our team uses the latest specialist rehabilitation techniques, including robotic equipment to help maximise your recovery.
Dedicated, specialist service: Our multidisciplinary team includes rehabilitation specialists and physiotherapists, occupational therapists, speech and language therapists, therapy assistants, rehabilitation nurses, neuropsychiatrists and neuropsychologists ensuring a coordinated treatment plan for you.
Customised care: We will carry out a comprehensive review of your condition and put in place a rehabilitation plan tailored specifically for you.
Research: We are highly active in neurorehabilitation research and can rapidly translate the latest research developments into practice for the benefit of our patients.
Neurorehabilitation at Cleveland Clinic London
Our neurorehabilitation unit treats patients with a range of neurological conditions, including those with complex needs. Conditions we treat include:
Acquired brain injury, including stroke and traumatic brain injury.
Chronic neurological disorders such as multiple sclerosis.
Chronic, progressive neurodegenerative disorders, such as Parkinson's disease, and complex forms of Parkinsonism, which cause symptoms such as tremors, muscle stiffness and slow movement.
Musculoskeletal disorders, for example following joint replacement or a serious injury such as a road traffic accident causing multiple traumatic injuries.
Prolonged disorders of consciousness, a state where consciousness has been affected by damage to the brain, causing coma, including minimally conscious state and vegetative state.
Spasticity, a disruption in muscle movement patterns causing muscle spasms, stiffness and difficulty co-ordinating movement.
Cognitive and behavioural disorders due to brain injury.
A dedicated case manager will be allocated to you when you are admitted to the neurorehabilitation unit. They will work with the rest of your care team to coordinate your care and oversee your entire treatment journey – from arrival to continuing your rehabilitation when you return home.
Our services include:
Baclofen pumps, used to administer a muscle relaxant medicine direct into the spinal fluid to decrease spasticity related to multiple sclerosis, spinal cord injuries or other neurological diseases.
Intensive rehabilitation programmes.
Outpatient therapy to help with your transition back home and continuation of your rehabilitation.
Support for patients who need a tracheostomy to help them breathe, or who need artificial feeding support.
Learn More
Contact us or call +44 (0)20 3423 7500 for more information about our neurorehabilitation services.