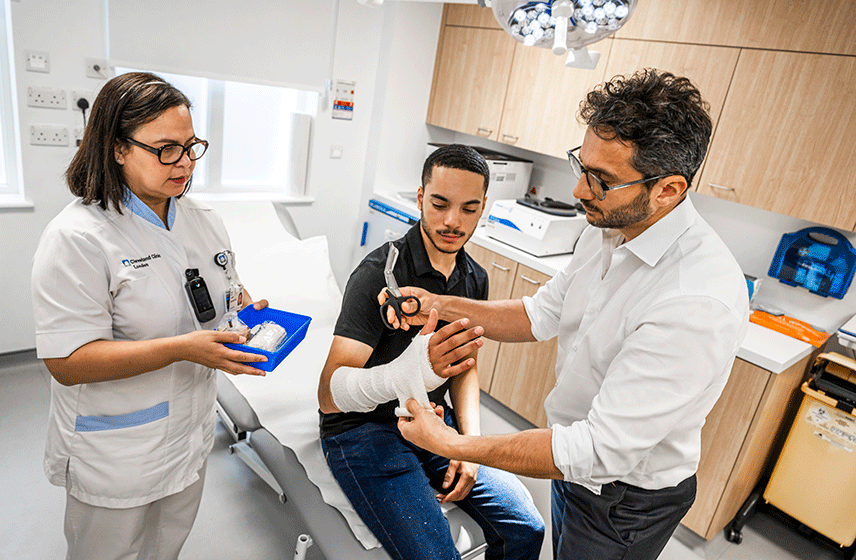 When you're waiting to have surgery for a serious traumatic injury, your recovery — and your life — is on hold. But treatment shouldn't wait. Get the right care, right now, from world-renowned orthopaedic trauma surgeons.
Cleveland Clinic London, the U.K.'s foremost private hospital, offers a full spectrum of care, including rapid on-site diagnostic testing, advanced procedures and inpatient rehabilitation.
Orthopaedic Trauma Surgery: Why Choose Cleveland Clinic London?
At Cleveland Clinic London, you'll find:
Recognised expertise: All of our orthopaedic trauma consultants work at one of London's leading Level-1 Major Trauma Centres. This uncommon expertise means our surgeons are uniquely qualified to treat even the most severe and complex bone and soft tissue injuries.
Timely, accessible care: Prompt treatment is available for privately insured or self-pay patients. Whether you're awaiting surgery at home or as an inpatient, we can arrange transportation to our hospital. We have dedicated time in our operating theatres for trauma cases, ensuring we are ready when you need us.
Team approach: You receive care from a team of experts, including orthopaedic trauma surgeons, reconstructive surgeons, anaesthetists, sports medicine consultants and rehabilitation specialists, all under one roof. They work together to streamline your treatment plan.
Focus on safety: Orthopaedic trauma surgeons are on call 24/7 to address any critical needs. Our hospital also features state-of-the-art operating theatres and one of the U.K.'s largest and most advanced private intensive care units, staffed at all times by an intensivist, anaesthetist and full surgical care team.
Treatment for complex conditions: Our multidisciplinary surgical team has the capabilities to treat challenging and complicated traumatic injuries — a level of expertise that's not widely available. Our experts specialise in complex fractures, polytrauma (injuries to many body parts), and limb salvage and reconstruction.
World-class orthopaedic trauma leaders: Our team has fellowship training from prestigious hospitals throughout the world, including the U.S., Canada and Australia. They research, lecture and train other surgeons in the latest surgical techniques, exclusively focused on finding newer, better ways to provide trauma care.
Traumatic Orthopaedic Conditions We Treat
Our orthopaedic trauma and reconstructive surgeons have the breadth and depth of expertise to treat a full range of injuries, from routine to critical. We can address even the most severe musculoskeletal trauma and related complications due to falls, sports, crush injuries and accidents.
We care for:
Upper and lower limb bone fractures.
Periarticular fractures (fractures around joints).
Complex fractures, including malunion, non-union and open fractures (compound fractures).
Polytrauma (two or more traumatic injuries affecting multiple areas of the body).
Severe soft tissue injuries.
Bone infections (osteomyelitis).
Types of traumatic musculoskeletal fractures we treat include:
Our Treatments for Orthopaedic Trauma
Our multispecialty team excels in a range of advanced surgical techniques for bone and soft tissue trauma. We use our on-site diagnostic testing, including the most sophisticated MRI and CT technology, to provide prompt assessment and care. We offer:
Open reduction and internal fixation: We reposition broken bones and stabilise them with metal screws, pins, plates or rods. Correct alignment and fixation are essential for proper healing and to minimise the risk of non-union (bones not healing), malunion (bones healing in an abnormal position) or infection.
Lower limb reconstruction: Orthopaedic and reconstructive surgeons use implants, bone grafts, tissue transfers and advanced microvascular techniques to rebuild severely injured limbs and prevent amputation. Learn more about reconstruction surgery.
Peripheral nerve care: If a traumatic injury involves nerve damage, orthopaedic and peripheral nerve surgeons work together to perform nerve transfers, targeted muscle reinnervation and free functional muscle transfers. Learn more about peripheral nerve injury care.
Learn More
Contact us or call +44 20 3423 7500 for more information about orthopaedic trauma care.