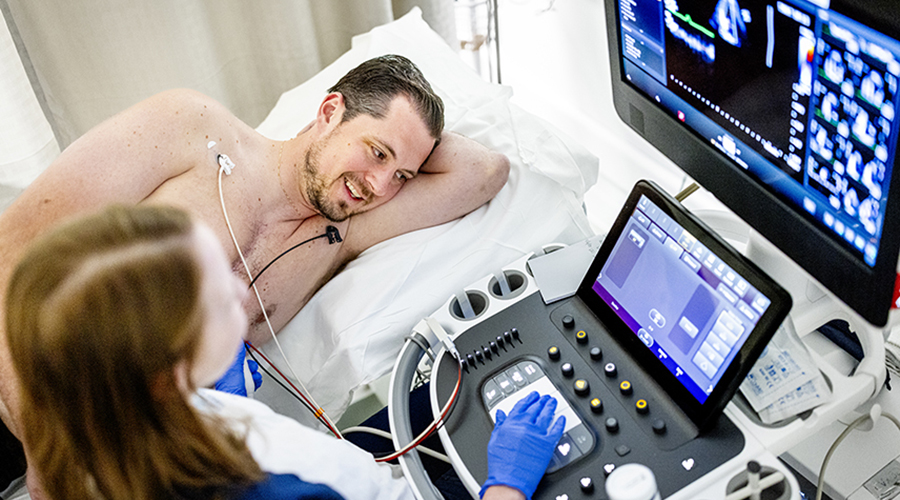 Electrophysiology (EP) is the study of your heart's rhythm. If you have an abnormal heart rhythm or heartbeat, you need attentive monitoring and care from experts you can trust. At Cleveland Clinic London, our renowned cardiac electrophysiologists provide the advanced treatments and personalised care you deserve.
Arrhythmia and AFib Treatment: Why Choose Cleveland Clinic London?
Highlights of our cardiac electrophysiology services include:
Specialty expertise: Our arrhythmia specialists have training from some of the world's leading healthcare organisations. They focus on key areas of arrhythmia care, including leadless pacing devices, inherited heart rhythm disorders and advanced diagnostic techniques.
Innovative treatments: Cleveland Clinic London is the first private hospital in the U.K. to offer laser lead extraction, a non-surgical technique to safely remove pacemaker and defibrillator wires. We also offer leadless pacemaker implantation and other cutting-edge therapies. You receive access to the latest treatments that may not be widely available.
Team-based approach: Highly skilled electrophysiologists, cardiologists, general practitioners, heart failure specialists and interventional cardiologists work together to ensure you receive the highest level of care. Your treatment plan is seamlessly and efficiently coordinated at every stage.
State-of-the-art facility: Our new hospital features an electrophysiology lab equipped with the latest technology. We perform the latest tests and treatments, including advanced cardiac mapping, ablation and device implantation.
EP Services We Offer
We offer a range of innovative tests and procedures for heart rhythm disorders, including:
Ablation procedures: We use minimally invasive, catheter-based techniques for radiofrequency ablation (extreme heat) and cryoablation (extreme cold) to treat many heart rhythm disorders. We create small areas of scar tissue on your heart, which disrupt the abnormal electrical impulses that cause the irregular heartbeats.
Advanced diagnostics: Our consultants use the latest technology to assess and diagnose heart rhythm problems, including 3D electro-anatomical mapping. We create highly detailed maps of your heart to pinpoint the exact source of the arrhythmia, allowing us to provide more accurate, effective treatment. We also offer tilt table testing, cardioversion and implantable loop recording (ILR) to diagnose common conditions such as syncope (fainting) and atrial fibrillation.
Implantable cardioverter defibrillator (ICD) device implantation and management: We offer single- and dual-chamber ICD implantation, as well as cardiac resynchronisation therapy (CRT) device implantation. These treatments can restore abnormal heartbeats in people with high-risk arrhythmias, potentially preventing sudden cardiac death. CRT can also help people dealing with severe heart failure.
Left atrial appendage closure: People with atrial fibrillation have a higher risk of blood clots and stroke. The clots can form in a sac-like area in one of the upper chambers of your heart. Using minimally invasive techniques, we implant a small, permanent device to close off this area and prevent blood clots from forming.
Pacemaker implantation and management: Our experts excel in leadless pacemaker implantation and laser-assisted pacemaker lead extraction. This technique offers a safe, less invasive way to remove pacemaker leads. We can also address any problems related to implanted devices, including dysfunction or infection.
Heart Rhythm Disorders We Treat
Our consultants have the expertise to care for common and complex arrhythmias, including:
Learn More
Contact us or call +44 (0)20 3423 7500 for more information about our electrophysiology services.