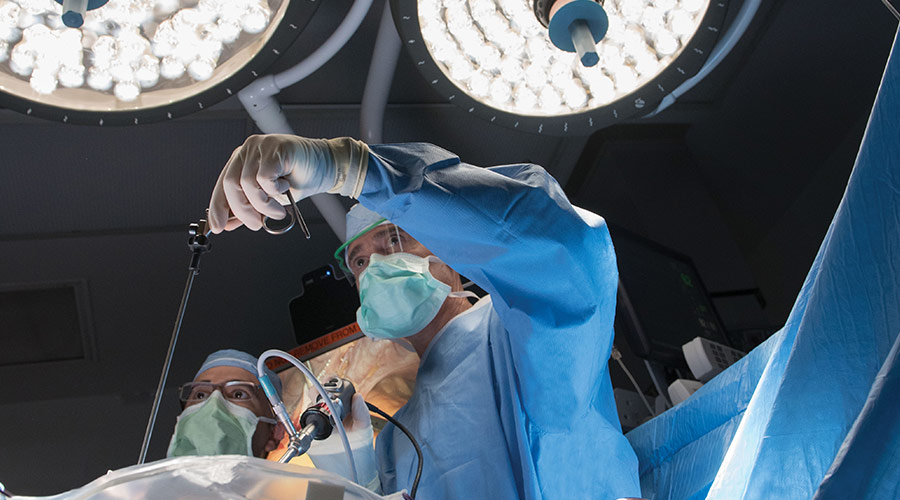 If you have a condition that impacts the upper gastrointestinal (GI) area of the body, for example your stomach, oesophagus (the tube connecting your mouth to your stomach), pancreas or gallbladder, you may be advised that surgery could help resolve your symptoms and help you return to normal, with an improved quality of life.
Our highly experienced upper GI surgery team carries out advanced surgical procedures for conditions such as cancer, GI reflux, gallstones and pancreatitis. You can be assured of an accurate diagnosis and treatment plan, and will receive high-quality, safe care before, during and after your procedure.
Why Choose Us for Upper GI Surgery?
Upper GI surgery is a highly specialist area. We have world-leading experts in this field. You can expect:
Advanced treatments: Our experienced consultants are at the forefront of developing new approaches to upper GI surgery. We offer the most advanced treatment options and use the latest techniques to ensure the best outcomes for any upper GI condition you're facing.
State-of-the-art facilities: Our hospital and outpatient centre are brand-new, equipped with the latest technology and designed for the best possible patient experience.
Team-based approach: Our skilled consultants, surgeons and nurses work together as a team to deliver exceptional care. We collaborate with providers throughout Cleveland Clinic to ensure you get complete care.
Extensive experience: With experience in treating any upper GI disease or condition, our surgeons are internationally renowned as leaders in their fields.
Upper GI Surgery at Cleveland Clinic London
Upper GI conditions that we treat include:
Benign hepatobiliary disease.
Benign oesophagogastric disorders, including Barrett's oesophagus and hernia.
Benign upper GI conditions including gastro-oesophageal reflux disease (GORD; chronic acid reflux) and achalasia (swallowing problems).
Dysphagia, a swallowing disorder.
Gallstones, stone-like objects that develop in the gallbladder or bile ducts.
Gastrointestinal stromal tumours (GISTS), a rare type of cancer found in the digestive system.
Hiatal hernia, where the top of your stomach bulges through an opening in your diaphragm.
Hepatobiliary cancer.
Obstructive jaundice, which is caused by narrowed or blocked bile duct.
Oesophagogastric cancer: cancer in the stomach or oesophagus. Oesophageal motility disorders, where your oesophagus (the tube connecting your mouth to your stomach) doesn't function properly, causing swallowing problems, heartburn and chest pain.
Oesophageal strictures, when the oesophagus becomes extremely narrow making it difficult to swallow solid foods.
Pancreatic diseases including pancreatitis.
Problems with the duodenum (the first part of the small intestine), including duodenitis (inflammation of the duodenum) and ulcers
Stomach polyps, an unusual growth of tissue in the lining of the stomach.
Stomach ulcers.
Treatment and surgeries:
Gallbladder removal (laparoscopic cholecystectomy): a surgical procedure where a laparoscope, a narrow tube with a camera, is inserted through a small incision and the gallbladder is then removed through another small incision.
Gastrectomy, the removal of part or all of the stomach.
Laparoscopic and open hernia surgery: hernia surgery can be open (where a cut is made into the body at the location of the hernia), laparoscopic (where tiny incisions are made to allow for the insertion of surgical tools) or robotic (where the surgeon operates the surgical tools from a console).
Management of complications after bariatric (weight loss) surgery.
Open and keyhole surgery to the upper gastrointestinal tract.
Oesophagectomy, surgery to remove part or all of the oesophagus.
Removal of non-food items stuck in the upper gastrointestinal tract.
Treatment for failed anti-reflux surgery and recurrent symptoms after surgery for achalasia.
Learn More
Contact us or call +44 (0)20 3423 7500 for more information about our upper GI surgery services.