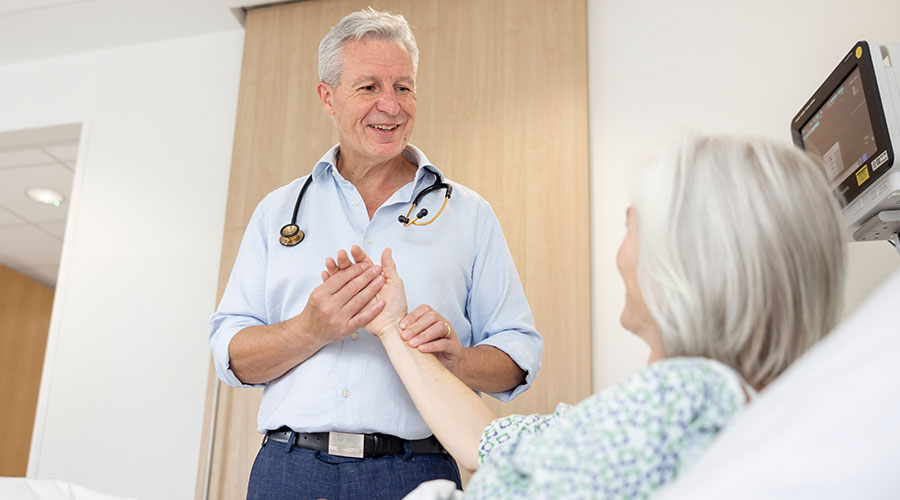 Your heart health plays a vital role in your quality of life, so give it the very best care. At Cleveland Clinic London, a renowned team of cardiology consultants delivers prompt, personalised evaluation and treatment for a wide range of cardiac conditions.
Heart Care: Why Choose Cleveland Clinic London?
Highlights of our cardiology services include:
Expert team: Our expert cardiologists are leaders in the field of heart care, with training and expertise from internationally renowned hospitals. They specialise in the latest research-based diagnostic techniques and treatments, providing the highest level of care. Our 24/7 acute admissions unit (AAU) and intensive care unit (ICU) also ensure that a critical care consultant is always available for any urgent heart problems.
Advanced treatments: Cleveland Clinic London is the first private hospital in the U.K. to offer laser lead extraction, a non-surgical technique to safely remove pacemaker and defibrillator wires. You receive the latest heart treatments that may not be widely available.
Convenient access: We offer same-day appointments, including one-stop and virtual cardiac clinics, ensuring you get the timely care you need. In addition, our integrated digital health records system means you and your referring doctor have instant access to your test results, upcoming appointments and more.
Compassionate care: Having a heart problem can be scary and overwhelming. When you have questions and concerns, we take the time to give you and your loved ones the information you need to make confident, informed decisions about your heart care plan.
Cardiology Services We Offer
We offer a broad range of cardiology services for both common and complex conditions, including:
Heart imaging: Our state-of-the-art facility is equipped with the latest imaging technology to accurately diagnose and monitor heart conditions. We offer a full range of services, including echocardiography, CT scanning and cardiac MRI. Learn more about our heart imaging services.
Heart check-ups: We offer heart screening and risk assessment, as well as genetic testing for people with a family history of heart diseases. Cardiologists guide you in making heart-healthy lifestyle adjustments, including smoking cessation and diet modifications.
Sports cardiology: Our experts care for the unique needs of athletes and active individuals with heart conditions. We evaluate your exercise health risks and help you make a plan to safely participate in your chosen sport.
Device implantation and extraction: People with heart rhythm disorders may need specialised devices to help regulate their heartbeat. We implant cardioverter defibrillators (ICD), traditional pacemakers and leadless pacemakers. We also offer laser lead extraction to safely remove device wires.
Electrophysiology: Our experts offer a wide range of tests and treatments for both troublesome and life-threatening heart rhythm disorders. We provide radiofrequency ablation for atrial fibrillation, ventricular arrhythmias, atrial flutter and other supraventricular tachycardias. Learn more about our electrophysiology services.
Interventional cardiology: Our experts excel in catheter-based procedures to treat a range of conditions without major open-heart surgery. Procedures include angioplasty and stenting, PCI and transcatheter valve interventions. Learn more about our interventional cardiology services.
Cardiovascular oncology: We help assess your heart health before cancer treatments such as chemotherapy or radiation therapy. We also care for acute and long-term cardiotoxicities related to cancer treatment, including high blood pressure, heart muscle disease or heart failure.
Heart Conditions We Treat
Our experts provide comprehensive evaluation, diagnosis and treatment for:
Learn More
Contact us or call +44 (0)20 3423 7500 for more information about our cardiology services.